An installation of a new Pastor is a punctuation in the life of a Parish.
Bishop Frank J. Dewane installed Father Teofilo Useche as Pastor of Holy Cross Parish in Palmetto, on Sept. 17, 2023, in the context of the Mass.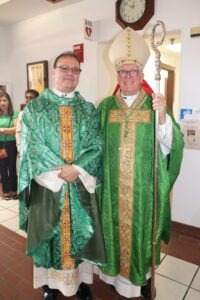 "You knew him as your Pastor in the past, and he has returned," Bishop Dewane said. "This Parish is of two cultures, two languages (English and Spanish), two gifts that come together, respectfully, one for the other. It is a beautiful sight to see."
Bishop Dewane told the faithful how important a Pastor is to the spiritual development of the Parish, particularly one that is as culturally rich as Holy Cross.
"Father is here to help you grow into a closer relationship with Jesus Christ," Bishop continued. "It is my prayer that you continue your support of Father well into the future as your Parish continues to thrive."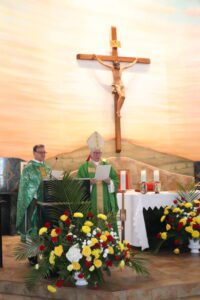 Father originally served at Holy Cross from 2003 to 2011, appointed first as Administrator, then as Pastor. He was appointed to St. Leo the Great Parish in Bonita Springs in 2011 before going on to St. Maximilan Kolbe Parish in Port Charlotte in 2013.
Enhancing the celebration, the installation of Father Useche was just a few days following the Feast of the Exaltation of the Cross (Sept. 14), the Parish Feast Day.
The history of Holy Cross dates to 1956, when the first Mass was celebrated at the Palmetto Women's Club. A new church was built on U.S. 41, north of the town and was dedicated in 1958. Due to growth, the Mission was elevated to Paish-status in February 1960. The current church was dedicated in 1989. The Parish has more than 1,000 families and Mass is celebrated in English and Spanish each weekend.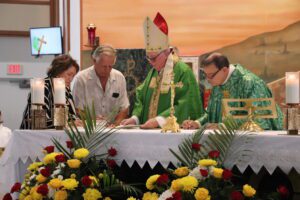 As part of the installation process, the priest first recites a profession of faith for all to hear, including an additional part solely for him. The new Pastor then recites an Oath of Fidelity and promises to "adhere to the teachings, which either the Roman Pontiff or the college of bishops enunciate when they exercise authentic magisterium." The installation also includes prayers to provide the new Pastor the wisdom and guidance from the Holy Spirit to lead the Parish.
The ceremony concludes with the signing of documents by the Bishop, the new Pastor, and two official witnesses of the Parish Community, who serve as witnesses for all.
At the conclusion of Mass, Father Useche thanked the faithful of Holy Cross for being so supportive upon his return and considers them all part of his extended family. Among the well-wishers for the Mass were family and friends, as well as faithful from St. Maximilian Kobe Parish, where he had served as Pastor from 2013 to 2023.
A reception celebration was held in the Parish Hall. In addition, prior to Mass, and after Mass, dancers in traditional garb performed.