Two Parishes in Sarasota had much to be grateful for during the weekend of March 18-19, 2023, the Fourth Sunday of Lent (Laetare Sunday), when they were witnesses to the installation of their respective Pastors.
Father Paul Nguyen was installed as Pastor of St. Patrick Parish on March 18, while Father John Hoang was installed as Pastor at Our Lady Queen of Martyrs on March 19.
Bishop Frank J. Dewane installed both priests in the context of the Mass. Father Nguyen and Hoang have been serving their Parishes in the capacity of Administrator since 2020.
Bishop Dewane first thanked Fathers Nguyen and Hoang for answering the call to the priesthood, a call from the Lord, a giving over of themselves in a very particular way, so as to serve the People of God.
"You have come to know Father these past years but he needs your continued prayers and support," Bishop Dewane said. "A Pastor imparts knowledge of the Lord, and offers spiritual leadership and guidance, as you journey together into a closer relationship with God."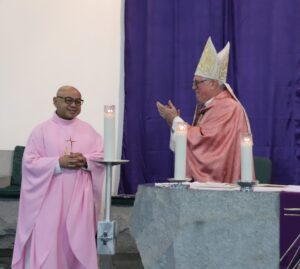 St. Patrick Parish, located on Bee Ridge Road, east of Interstate 75, was first established in 1988, with the current church dedicated in 1992. The Parish Hall was competed in 1996.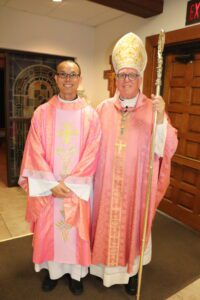 Our Lady Queen of Martyrs Parish, located in a neighborhood just north of the Sarasota-Bradenton International Airport, was established in 1959 for the Diocese of St. Augustine. The current church building was built in 1984, and the original church was converted into a Parish Hall.
As part of the installation process, Bishop Dewane first calls the priest to the ambo following the homily. The priest then recites, along with the faithful, the profession of faith, including an additional part solely for him. The priest then recites an Oath of Fidelity in which he promises to "adhere to the teachings, which either the Roman Pontiff or the college of bishops enunciate when they exercise authentic magisterium." The installation also includes prayers to provide the new Pastor the wisdom and guidance from the Holy Spirit to lead the Parish.
The Bishop then presents the new Pastor to the faithful gathered. Documents are signed by the Bishop, the new Pastor, and two official witnesses of the Parish Community, who serve as witnesses for all of the parishioners. These documents are kept at the Diocese in the Parish and priest's files, while a copy is kept in the Parish.
Following the Mass, congratulatory receptions were held in the respective Parish Halls.