With Holy Week just days away, it is not too late to ponder how well prepared we are for the Resurrection of the Lord on Easter Sunday.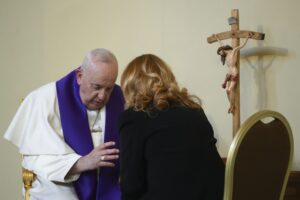 One way to help in this effort is through participating in the Sacrament of Reconciliation.
To facilitate this requirement, every Parish in the Diocese of Venice will be open with a confessor present from 4 p.m. to 8 p.m., on Friday, March 31, 2023, and from 9 a.m. to noon, Saturday, April 1. These opportunities, facilitated by Bishop Frank J. Dewane, are made available so that the faithful may find ample opportunity to receive God's Mercy in the Sacrament of Reconciliation during the Lenten Season.
Bishop Dewane said that many people view the idea of confessing one's sins as so unbearable that they either completely avoid the Sacrament or go infrequently.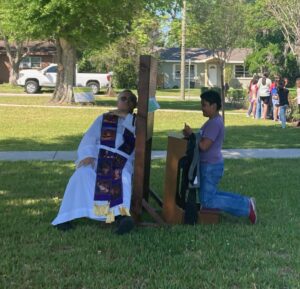 "It is heartbreaking to hear stories from those who have avoided confession for many years after carrying around a burden," Bishop Dewane said. "It is heartwarming to talk to people of all ages who go to confession and are relieved and overjoyed at the benefits. Some even scold themselves for missing such a beautiful Sacrament for so long."
Throughout the Lenten Season, Parishes have offered extended hours for the Sacrament, in addition to offering Penance Services, where multiple priests from the region were made available to hear the confessions of a large number of people.
Pope Francis often speaks about the healing benefits of the Sacrament of Reconciliation, saying that he goes about once every two weeks. On March 17, Pope Francis spoke about the Sacrament of Reconciliation.
"In Confession, let's give God first place," the Holy Father said. "Once He is in charge, everything becomes beautiful and confession becomes the Sacrament of joy, not of fear and judgement, but of joy."
As the Catechism teaches, the priest is acting in Persona Christi, the person of Christ, within the confessional. So, like presenting oneself at the altar to be nourished by Christ in the Eucharist, a person going to Confession, is not ultimately confessing to a priest, but confessing to and receiving forgiveness from Jesus Christ.
"The Lord comes to us when we step back from our presumptuous ego… He can bridge the distance whenever, with honesty and sincerity, we bring our weaknesses before him," Pope Francis said. "He holds out his hand and lifts us up whenever we realize we are 'hitting rock bottom' and we turn back to him with a sincere heart. That is how God is. He is waiting for us, deep down, for in Jesus he chose to 'descend to the depths.'"
The Pope emphasized that God waits for us, especially in the Sacrament of Penance, where he said the Lord touches our wounds, heals our hearts, and leaves us with inner peace.
Please contact your local Parish for additional available confession times.