Father Robert D. Tabbert has retired after serving as Pastor at three different Diocese of Venice Parishes. Father Tabbert has been a priest for 44 years, having been ordained in 1979.
For the past 16 of those years, Father Tabbert has been in Fort Myers as Pastor at St. John XXIII Parish. There he oversaw the construction of a new Parish Life Center, Adoration Chapel and a senior affordable housing project on the campus.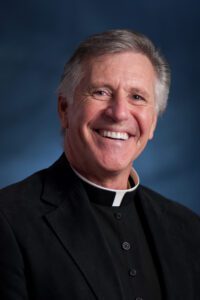 Prior to his arrival at St. John XXIII, Father Tabbert was Pastor at St. Ann Parish in Naples from 1996 to 2007, where he led the campaign which built the Jubilee Center and a major addition to the Catholic school.
In 1990, Father was named Pastor at St. Peter the Apostle Parish, also in Naples. He served there for six years and was instrumental in helping get the current Parish church built.
Father was born in 1953 in Chicago. He attended St. John Vianney College Seminary in Miami and St. Vincent de Paul Regional Seminary in Boynton Beach. He was ordained to the priesthood on May 19, 1979, for the Diocese of St. Petersburg (the Diocese of Venice was not erected until 1984) and his first Mass was celebrated at St. Andrew Parish in Cape Coral.
Early assignments for Father Tabbert included serving as Parochial Vicar first at St. Martha Parish in Sarasota and then at St. Jude Cathedral in St. Petersburg. He was then Director of Vocations for the Diocese of St. Petersburg and the first Director of Vocations of the Diocese of Venice. He also assisted at Epiphany Cathedral in Venice before being assigned as Parochial Vicar at St. Ann in Naples prior to his first assignment as Pastor in 1990.
A retirement message from Father asks for support and prayers for the next Pastor of St. John XXIII.
"I know that St. John XXIII Parish will continue to thrive, and I pray that your next Pastor will have your support and prayers. God bless you all."