Bishop Frank J. Dewane installed Father Robert Murphy as Pastor of St. Raphael Parish in Englewood on March 26, 2023, in the context of the Mass.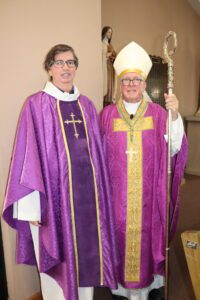 "To cater to the spiritual needs of the faithful of St. Raphael, it is appropriate that I come here to install your new Pastor," Bishop Dewane said. "Father has been here a while, and you have come to know him, but I ask that you continue to pray for him as he continues on this path of leading your Parish into the future."
St. Raphael Parish was established in 1964 and is in the southern end of Sarasota County near the Charlotte County border. Primarily a retirement and snowbird community, the Parish has more than 1,500 registered families. Father Murphy is the 10th Pastor of St. Raphael.
As part of the installation process, Bishop Dewane first calls the priest to the ambo following the homily. The priest then recites, along with the faithful, the profession of faith, including an additional part solely for him. The priest then recites an Oath of Fidelity in which he promises to "adhere to the teachings, which either the Roman Pontiff or the college of bishops enunciate when they exercise authentic magisterium." The installation also includes prayers to provide the new Pastor the wisdom and guidance from the Holy Spirit to lead the Parish.
The Bishop then presents the new Pastor to the faithful gathered. Documents are later signed by the Bishop, the new Pastor, and two official witnesses of the Parish Community, who serve as witnesses on behalf of all of the parishioners. Copies of these documents are put in the Diocesan files for the Parish and Father, while a copy is kept in the Parish records.
After Mass, Father thanked the Bishop for appointing him as Pastor, and the faithful of St. Raphael for being so supportive since his appointment as Administrator in 2019. Father Murphy also expressed his joy that his 101-year-old father, and his sister and brother-in-law, were present to see the installation. A reception followed in the Parish Hall.