Pope Francis has described Lent as a new beginning, a path leading to the certain goal of Easter, Christ's victory over death.
The message from the Holy Father is clear; we must take time out of our busy schedules to renew our encounter with Christ, living in His Word, in the Sacraments and in our neighbors. During this season we are invited to hear and ponder more deeply the Word of God, which is the foundation for the Faith.
Lent begins on Ash Wednesday, Feb. 22, 2023, and ends with the celebration of the Mass of the Lord's Supper on Holy Thursday, April 6. The Lenten Season is a time for fasting, praying and almsgiving – the three pillars of Lent – as we prepare to celebrate the Paschal Mystery.
Bishop Frank J. Dewane said it is important to remember that throughout the Lenten Season, the faithful must break out of indifference and enter into the unwavering love and mercy of God and become more energized about their Faith.
Fasting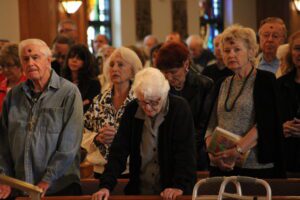 "Fasting and abstinence is not only about food, or the lack of it, it is also about sacrifice for the benefit of our spiritual lives. Sacrifice and self-denial should not be viewed as something to lament, but instead should be viewed as an opportunity to remove anything that distracts us from Jesus Christ," Bishop Dewane said
For early Christians, fasting was an important and meaningful Lenten practice in commemoration of Christ's Passion and Death. During these earlier days of the Church, the observance of fasting was very strict with one meal was allowed per day.
The current Lenten discipline, set forth by the Roman Catholic Church, consists of both fasting and abstinence on Ash Wednesday and Good Friday as well as abstaining from meat each Friday of Lent.
"These small sacrifices should just be the beginning of one's Lenten journey as we are all called to grow closer to Christ. Fasting is not solely about food, and abstinence is not about meat; rather, both are about spiritual conversion and renewal," Bishop Dewane said.
Prayer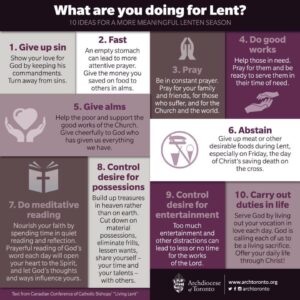 The second Lenten discipline is prayer. All Catholics are called to a prayer life that is both diverse and rich. A diverse prayer life includes personal and communal prayer, in which the faithful grow closer to Christ Himself – as well as to the Church Christ founded.
"During Lent our prayer life should not only grow but should focus upon the areas of life in which we might have fallen short of God's expectation – in other words, where we have sinned. Prayer is an indispensable component of the Catholic Faith. Therefore, by growing and maturing in that Faith, prayer becomes much more – it becomes an act of worship," the Bishop said.
It must be understood that as life progresses and one receives more of the Sacraments, prayer is recognized as a critical act of public worship in the Church, especially the Holy Sacrifice of the Mass.
"Prayer is an ongoing conversation with God, expressed through both words and actions. Thus, it can be easily understood that to grow in deeper communion with God, one must pray daily and this does not have to be in a Church."
The five basic forms of prayer are blessing, petition, intercession, thanksgiving and praise. When someone prays in any one of these forms, they are expressing a different emotion, need, concern or appreciation. No two prayers are the same, just as no two conversations are the same.
"In prayer, all grow in the love of God and greater appreciation of who God is and what God does. In a world so full of uncertainty and loneliness, great comfort should be taken in knowing that by praying, God will offer His blessings and grace. By offering blessings back to God in prayer, the blessing is returned to Him. What a beautiful exchange of love that becomes!"
Almsgiving
The third and final discipline traditional pillars of the Lenten observance is almsgiving. Often misunderstood, as with fasting and abstinence, almsgiving is an act of self-denial and is an expression of charity and assistance extended to the needy.
"By almsgiving during Lent, one not only expresses care for those in need, but also expresses a sign of gratitude for all God has provided in one's life. These acts of charity are connected to the responsibilities of living the Faith that begins with Baptism and is reignited in the Sacrament of Confirmation. Each of us bear responsibility in helping our brothers and sisters in Christ, but it takes prayer and reflection to understand how God is calling individuals to give of themselves."
The Catechism defines almsgiving as, "Money or goods given to the poor as an act of penance or fraternal charity… Almsgiving, together with prayer and fasting, are traditionally recommended to foster the state of interior penance."
This definition gives clarity as to how we are guided into the deep theological journey of Lent, and how these observances help to lift human beings out of their sinfulness toward a closer, more holistic relationship with the Lord. In a sense, almsgiving is a type of prayer. Because almsgiving requires sacrifice, it is also a sort of fasting from the material world.
"By uniting fasting, prayer and almsgiving, one seeks to become a better person, more than he or she has ever been before," Bishop Dewane said.
In addition to these observances, the Lenten Season is an ideal opportunity to confess grave sins. To facilitate this requirement, all Parishes in the Diocese of Venice will be open with a confessor present so that the faithful will find ample opportunity to receive God's Mercy in the Sacrament of Confession from 4-8 p.m., Friday, March 31, and 9 a.m.-noon, Saturday, April 1. Please check with your local Parish for additional reconciliation times.
Bishop Dewane reiterated the need to understand the way in which these Lenten observances can work in concert with one another. "Each is indispensable in its own way and offers the faithful an opportunity to grow in greater love and appreciation of God. The Lord calls each person to total commitment. By practicing these observances together, even when the Lenten Season ends, they become more than the sum of their parts. They become part of a faith that flourishes and a heart that is increasingly dedicated to the Lord."