The Lenten Season is a time for prayer, fasting, and almsgiving as we prepare to celebrate the Paschal Mystery of our Faith.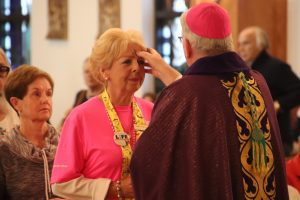 The 40-day Season begins on Ash Wednesday, March 2, 2022, ending at sundown on Holy Thursday, April 14, and is an opportunity for the faithful to undertake the practices of prayer, fasting and almsgiving as a means to know Christ better and follow His will more faithfully.
"By uniting the three pillars of Lent – prayer, fasting and almsgiving – one seeks to become a better person, more than he or she has ever been before," Bishop Frank J. Dewane said.
In his Lenten message for 2021, Pope Francis reflected, "In our Lenten journey towards Easter, let us remember the One who 'humbled himself and became obedient unto death, even death on a cross' (Phil 2:8). During this season of conversion, let us renew our faith, draw from the 'living water' of hope, and receive with open hearts the love of God, who makes us brothers and sisters in Christ."
Ash Wednesday and Good Friday are obligatory days of fasting and abstinence from meat for Catholics from the age of 18 to 59, meaning only one full meal and two smaller meals not equal to a full meal are permitted. The Church asks that, if possible, the fast on Good Friday, the "Paschal fast," be continued until the Easter Vigil on Holy Saturday to honor the suffering and death of Jesus and prepare more fully for His resurrection. In addition, Fridays during Lent are obligatory days of abstinence from meat from the age of 14.
Lent is also the time for the baptized to renew their baptismal commitment, while those who desire to become Catholics enter a process of learning and discernment, the Rite of Christian Initiation for Adults (RCIA), in preparation for baptism during the Easter Vigil. An important part of the RCIA process is the Rite of Election, when those hundreds from across the Diocese who seek to enter the Church present themselves to the Bishop. This occurs on the first Sunday of Lent, March 6, at Epiphany Cathedral in Venice.
The precept of confessing grave sins and receiving Holy Communion at least once during the Lenten Season merits a reminder to all. To facilitate this requirement, every Parish in the Diocese of Venice will be open with a confessor present from 4 p.m. to 8 p.m., on Friday, April 8, and from 9 a.m. to noon, Saturday, April 9. Check with your local Parish for additional confession times or the availability of a Penance Service. These opportunities are made available so that the faithful may find ample opportunity to receive God's Mercy in the Sacrament of Reconciliation.
It must be remembered that the three pillars of Lent – prayer, fasting and almsgiving – are not simply things to do during Lent, but much more. Instead, prayer, gives us humility rather than pride, relying on God rather than ourselves; fasting from those things that interfere in strengthening a relationship with God; and almsgiving with compassion for those in need, will make the Lenten journey a fruitful period of renewal.