The Catholic Community Foundation of Southwest Florida Inc. has a way for individuals and families, who generously intend to make a legacy gift, to easily inform the Church of their wishes ahead of time.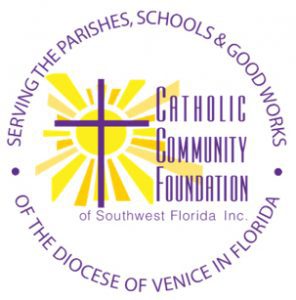 "This form allows individuals and families the opportunity to express in writing their intentions but does not adhere them to any binding obligation to them or their estate," said Michael Morse, Catholic Community Foundation Executive Director. "This will also allow the Foundation to express its gratitude to a generous individual or family while they are still living."
The Legacy Giving Form can be accessed by following this link: https://ccfdioceseofvenice.org/giving/.
On the form, the individual/family will be asked to provide their name and contact information. Then they will be asked to identify which aspect of the Church they intend to name in estate planning. This can include the Diocese, a Parish, a Catholic school, the Catholic Community Foundation, or other Catholic entity such as Catholic Charities, Diocese of Venice, Inc., or Our Lady of Perpetual Help Retreat Center.
Then the form requires information about what form the legacy gift from the estate will take, such as a will, trust, 401k or 403b retirement plans, beneficiary of Individual Retirement Account, beneficiary of life insurance policy, beneficiary of bank accounts, home or other real property, tangible personal property, or some other form of gift. There is an option to provide the estimated value of the gift, but this is not required.
Next, the individual/family has the option to describe in detail how they would like their gift to be used. For example, this can be in the form of an endowment fund that goes on in perpetuity, outright gift, or directed for a specific program or ministry.
This document does not bind the person submitting the information or their estate. By signing this form, you are simply acknowledging your current intention to include The Catholic Community Foundation of SWFL, your Parish, Catholic School or other Catholic entity in your estate plan.
The Catholic Community Foundation of Southwest Florida Inc. was established in 2004 as an independent 501(c)(3) not-for-profit, with its own by-laws, Board of Directors, and staff professionals. The Foundation helps donors create lasting Catholic Legacies by working with them to provide long-term support and sustainability to the Catholic entities and programs about which they care. In 2022, the Foundation is on track to distribute $5.3 million in endowed support for Catholic schools, Parishes, seminarian education, programs for the needy, college scholarships and more.
To learn more about the Catholic Community Foundation, please contact Michael Morse at 941-441-1124 or by email at Morse@dioceseofvenice.org. You can also visit the Foundation website at www.CCFDioceseofvenice.org.