For more than half his life, Deacon William Ladroga has committed to service the Catholic Church. During that time, he has served as a teacher and mentor to many who have themselves become Permanent Deacons.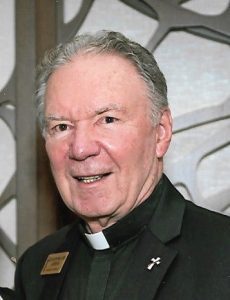 After 42 years as a Permanent Deacon, 23 of those within the Diocese of Venice, Deacon Ladroga has retired as Diocesan Director of Diaconate Student Formation. He leaves that role having assisted in the formation of seven classes of Permanent Deacons, 28 men, including seven of whom were ordained on Aug. 15, 2020, just days before he officially retired. One of his last acts was to submit the names of 13 who are being considered for selection into the Permanent Deacon class of 2025.
"I can look back and see how God has been good to me, his unworthy servant," Deacon Ladroga said reflecting on his service to the Catholic Church which dates to June 24, 1978, when he was ordained a Permanent Deacon for the Diocese of Worcester, Massachusetts.
An engineer by trade, Deacon Ladroga worked for various corporations assisting in the Minute Man missile program and the Apollo moon mission re-entry vehicle capsule program and took early retirement as a metallurgist for a corporation which made high performance ball and butterfly valves.
That retirement moved Deacon Ladroga, with his wife Lucille, to the Diocese of Venice where he has served at St. Martha Parish in Sarasota. He immediately began assisting in the Diaconate Formation Program while also assisting at St. Martha with adult education, Baptismal preparation, RCIA, marriage preparation, hospital ministry and other work. He also served as a two-term representative of Episcopal Region XIV of the National Association of Diaconate Directors.
Married to Lucille since 1960, the couple had five children, 13, grandchildren and eight great-grandchildren. The couple's oldest daughter died in 2020 and their second son will become a Permanent Deacon for the Diocese of Worcester in 2021.
"I have been fortunate to have a loving and understanding wife who has given up her time with me so that I might minister to others," Deacon Ladroga said, adding how she was involved assisting in diaconate formation programs but has had her own ministries and interests.
"I've had a fulfilling and interesting secular career, a blessed diaconate of (42) years, and a relatively healthy life for (82) years – and (23) years in sunny Florida! What more could one ask?" he concluded.