After nearly 60 years serving the ministerial priesthood, Father Jerome A. Carosella is retiring.
"Now that I'll soon be 85, and a little less energetic, the spirit is willing, but the flesh is a bit weak," said Father Carosella from Our Lady of Mercy Parish on Boca Grande, where he has served since 1988.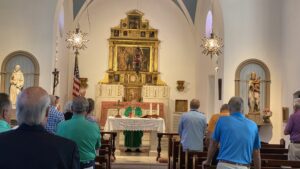 Father was the second Chancellor of the Diocese of Venice in Florida, being appointed to the post in 1986 and serving for 17 years. He reflected that the first few years in the position were a blizzard of paperwork as the Diocesan Curia was established and expanded, along with the opening of new Parishes in the growing region.
"It was after things settled down that I asked to be assigned to a Parish," Father Carosella said, having spent most of his priesthood in one Parish or another. "I said I needed something that's going to nourish my priesthood. I remarked that if a small Parish becomes available to the extent that I can manage to go back and forth, I would do it."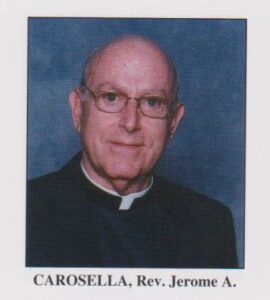 It was at that point, in 1988, when he was appointed as Pastor of the newly elevated Our Lady of Mercy Parish, which had been a mission church since 1950. "It was ideal. I would celebrate morning Mass and go to the Chancery four days a week, with weekends free to focus on the Parish."
Father Carosella was born in Waterbury, Connecticut, and studied at St. Andrew Seminary and St. Bernard Seminary, both in Rochester, New York, before continuing his education at the Pontifical North American College in Rome. He was ordained to the priesthood on Dec. 18, 1963, at St. Peter's Basilica, for the Diocese of St. Augustine.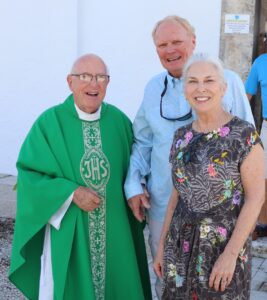 His first assignment as a priest was as Parochial Vicar at a Parish in Gainesville while also serving at the Catholic Student Center at the University of Florida. He was then assigned as Parochial Vicar at St. Martha Parish in Sarasota for several years before moving on to St. Jude Parish in St. Petersburg. While there, the Diocese of St. Petersburg was formed, and the Parish was elevated to a Cathedral. In the new Diocese, Father was appointed as Vice Chancellor, a position he held for several years. He was next appointed Pastor of a Parish in Temple Terrace and in 1973 as Pastor of St. Martha Parish in Sarasota.
At St. Martha, Father oversaw the renovation of the church and building of a Parish center, before the construction of nearby Casa Santa Marta senior housing. The Parish adoration chapel is named in his honor.
A member of the Board of Trustees of Catholic Charities, Diocese of Venice, Inc., since its founding in 1984, Father said the work done in nearly four decades has been amazing. "We had to build up and organize everything into one cohesive unit. Then we expanded the reach to grow and have a tremendous impact, helping people in need throughout the entire Diocese. Just look at what we have done in Arcadia; with the farmworker housing and other programs there. Really, it has been an amazing journey."
With his retirement, he also leaves the Board of Trustees of the Diocese Pension Plan. Previously, he was Vicar Forane, and also served on the Presbyteral Council, Liturgical Commission, and several other Diocesan advisory boards.
While at Our Lady of Mercy Parish, Father Carosella oversaw the construction of a new rectory, a preschool, and most recently a Parish Life Center. In addition, he has overseen the recovery of three destructive hurricanes (Charley 2004, Irma 2017, Ian 2022), which impacted not just the Parish, but the closeknit island community.
The small Parish has a very seasonal population, but Father Carosella helped build a strong, active community with many different lay groups doing outreach locally and Diocesan-wide. With the new Parish Life Center, he has also started a popular monthly dinner.
"There are a lot of friends and memories that I leave behind here. But the time is right. It has been a good run at nearly 60 years as a priest and approaching my 85th birthday. Now it is time for someone else to take charge."