With a radiant smile and infectious positivity, not to mention his Italian accent, Pallottine Father Fausto Stampiglia retires from St. Martha Parish in Sarasota leaving behind a legacy that is nearly impossible to comprehend.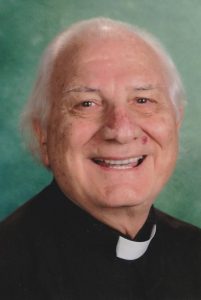 For the past 31 years, as Pastor of St. Martha, Father Stampiglia – known as Father Fausto to all – served the faithful with all his heart, impacting the lives of countless individuals and families, being there for moments great and small.
Ordained to the priesthood in 1960, now 86, Father Fausto enters retirement comforted by the knowledge that he did the best he could while shining the light of the Lord into the world. A favorite phrase – "Smile, God Loves You!" is on a plaque of his bust on the wall outside the Parish Hall named in his honor, with the rest of the quote saying – "and so do your Parishioners."
This feeling of love for Father Fausto has been evident throughout his many years and became more prevalent as his retirement approached in recent months.
Comments posted to social media when the official date for Father Fausto's retirement was made public included: "You will be missed in this role – you have touched so many in our community."  "You will always have a special place in our hearts. Thanks for everything you've done for me and my family." "Your messages of Christ's love and infinite ability to forgive us were deeply appreciated!" "Your entire life has been about serving God through us, His children." "Father Fausto's legacy is one of great care for generations of students. We pray his retirement be filled with blessed days and good health! Well done, Father Fausto, you have been a good and faithful servant."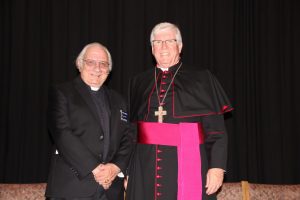 Bishop Frank J. Dewane reflected on the impact of Father by stating: "Father Fausto deserves great recognition and praise for the pastoral work he has accomplished in his years of service with the Diocese of Venice. He has been a blessing to the Diocese of Venice and to St. Martha Parish. Most may only know him as the Pastor of St. Martha, but he contributed in so many other areas. His compassion and love for all is always evident. While he is retiring and his cheerful presence will be missed, the legacy Father Fausto leaves behind will be remembered for generations. Father was a legend in his own time!  I know that he will continue the good work of our Lord in his life going forward in all that he does."
The humble Italian understands how much people care for him and deeply appreciate his service as Pastor at St. Martha. He recently reflected on his life, from growing up in war-torn Italy where he sought shelter from bombings from the age of five to nine; to his entering religious life at 16 with the Society of Catholic Apostolates (Pallottines); then to his scholarly studies then to assignments teaching first in Italy then in East Harlem, New York, then to Albany, New York. Then he became the expert at starting or reinvigorating Permanent Diaconate Programs at several different Dioceses.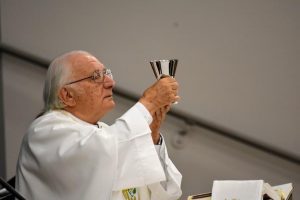 That is what brought Father Fausto to the Diocese of Venice in 1986.
Living at St. Patrick Parish in Sarasota, Father Fausto worked at the Catholic Center and assisted at Parishes in Sarasota while expanding the Permanent Diaconate program and helping to establish the Institute for Catholic Studies and Faith Formation.
As the Diocese expanded and new Parishes were erected, the Pallottines, with Father Fausto as Pastor, were asked to take over St. Martha Parish in downtown Sarasota in 1991. When he arrived at St. Martha, the Parish was in debt, and St. Martha's school was facing a possible closure.
With Father Fausto's charm, patience and humble approach to each problem, the Parish soon got out of debt and the school started adding students. Honesty and directness helped during this process as Father Fausto sought donors to support his plans for the future. This included building a new school on property several miles east of the Parish.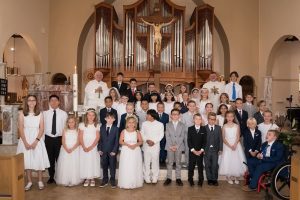 While going through that process, Father saw a need and supported the establishment of a new school for students with learning disabilities, the current St. Mary Academy (then known as Dreams Are Free Academy).
Father also supported the Spanish-speaking Catholics in the area, having been assigned to several Spanish-language Parishes in his early priesthood, and helped to establish St. Jude Parish.
Throughout the years at St. Martha, Father helped establish the Vietnamese and Tridentine Rite Masses, and has always been a strong supporter of Catholic Charities, Diocese of Venice, Inc., including St. Martha Early Learning Center for needy pre-school children, and Bethesda House (a outreach for victims of AIDS), which sit across from the Parish Church. He was also active in creating Casa Santa Marta I & II (low-income housing for seniors), as well as a Caritas outreach.
During his service to the Diocese of Venice Father Fausto has also been Vicar Forane (Dean) of the Northern Deanery since 1991, Theologian to the Bishop, Director of the Permanent Diaconate, an ex-officio member of the Presbyteral Council, a member of the College of Consultors, Liturgical Commission, and Diocesan School Board, as well as the Diocesan representative on the Sarasota Memorial Hospital Ethics Committee. He is also a Chaplain of the Knights of Columbus.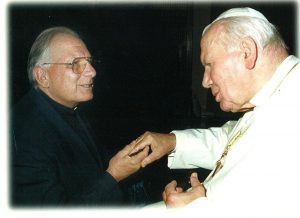 At the conclusion of the "Year for Priests," in 2010, Father Fausto was honored with the Papal Medal of Pro Ecclesia et Pontifice (For Church and the Pope) from then-Pope Benedict XVI by Bishop Dewane. The Papal Medal is the highest recognition for a Religious Priest and was presented for his exemplary service and for his dedication to the people of St. Martha Parish and to the Diocese of Venice.
Throughout his service to the Church, Father has been with the faithful at every moment of life, from births to deaths and everywhere in between.
To help smooth his transition from Pastor to retirement, the last official act Father Fausto had as Pastor occurred on May 14, 2022, presiding over the First Holy Communion of the students from St. Martha Catholic School and St. Mary Academy. At his side was his successor, fellow Pallottine Father Jerzy (George) Suszko. In the following few weeks, he was also present as an assisting priest at Confirmation and at Masses for the students at St. Martha and St. Mary before the close of the Academic Year.
Although he often has the energy of people half his age, Father's retirement comes in his mid-80s, a time when most people would relax. That is not Father's style.
First on his agenda is a trip to his home in Rome, Italy, to see family and friends for the first time since the start of the pandemic. While in Italy, Father will also visit the superiors of his religious order, Society of Catholic Apostolates (Pallottines).
Upon his return to the U.S., he will vacation at national parks in the American West, something he has done for decades. After that, he will assist at St. Martha whenever he is needed.
"I will be living in Sarasota and remaining at St. Martha," Father Fausto explained. "I'm going to help. It is part of being a religious priest. The Pallottines are staying here so I will be here. This is my home; my family."