Sister Maureen G. Carroll, Missionary Sister of the Most Sacred Heart of Jesus, served her last day as a teacher on May 26, 2023, ending a 57-year career, 34 of those at St. Ann Catholic School in Naples.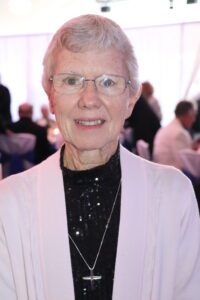 Sister Maureen is a very quiet and unassuming woman whose presence and energy is seen in everything she does. Described by many as a an "anchor" at St. Ann, Sister is known as someone who is "a good friend that cares about everyone."
According to Sister Maureen, her greatest joy has been to lead the children to Jesus through the Sacraments of Reconciliation and Holy Eucharist.
Generations of young children, mostly second grade students at St. Ann, were formed in their love for Christ by Sister Maureen performing her duties with gentleness and love.
A presence during the school Masses and on Sundays, serving as a Eucharistic Minister or assisting in various ways throughout the years, Sister Maureen quietly performed her tasks without complaint and guided by Christ.
St. Ann Principal Michael Buskirk expressed sadness over the retirement of Sister Maureen saying that she has been an important part of the school for many decades and replacing her was an impossible task.
"Sister Maureen, we thank you for sharing the gift of your strength and gentleness! May God bless you!" Buskirk said.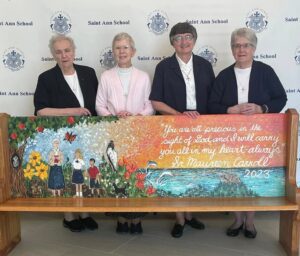 In honor of Sister Maureen's service, the people of St. Ann's dedicated a pew in her name with her own words on it: "You are all precious in the sight of God and I will carry you all in my heart always." The pew was decorated with artwork that include a garden and beach scene with images of Sister, students, her cat, and various wildlife.
The pew was presented to Sister Maureen during a retirement reception. Present were current and past students and teachers, grateful parents, as well as several Missionary Sisters. This gathering allowed admirers time to honor Sister ahead of the chaos of the end of another school year.
Born in Ridgewood, New York, Sister Maureen was received as a candidate with the Missionary Sisters of the Most Sacred Heart of Jesus in 1960. She took her first profession on June 30, 1962, and Final Profession on Aug. 22, 1967.
Sister earned a degree in elementary education from Cabrini College, in Radnor, Pennsylvania. She taught in Catholic schools, grades 1-4, in Pennsylvania, Georgia and Illinois before 1989, settling in for the next 34 years at St. Ann Catholic School. The rest is history.
In her spare time, Sister Maureen likes to fish, walk the beach, eat chocolate, travel as well as spending time with friends and family.
In noting her retirement, the Missionary Sisters congratulated Sister Maureen on "her faithful, loving service which is true to their charism as Missionary Sisters of the Most Sacred Heart of Jesus – "Being graced by the Love of Christ, we the Missionary Sisters of the most Sacred Heart are called to respond to His love and to make that love present to everyone."