Making a triumphant return to the Diocese of Venice, the very successful Totus Tuus summer camp will soon be taking place at a Parish near you.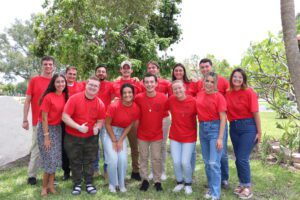 There are 12 missionaries fervently undergoing final preparations as the first two Parish camps start June 4, 2023. Ultimately there will be eight separate weeks with 11 Parishes serving as hosts through the end of July. Hundreds of young children and teens will be impacted by this special outreach.
The 2022 pilot program garnered rave reviews, with host Parish priests and catechists describing how the children's love for Christ reached heights in a single 5-day period more than in an entire season of religious instruction.
Bishop Frank J. Dewane authorized bringing the pilot program to the Diocese in 2022 and agreed that in 2023, there would be a recruitment of even more missionaries and more host Parishes for these camps.
"The Totus Tuus format allows the participants to learn a great deal in such a short time. It was very impressive and was something I realized that we needed to bring to as many of our young people as possible," Bishop Dewane said.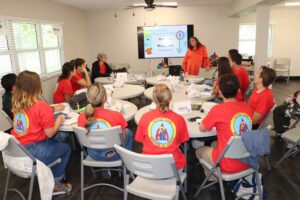 The Totus Tuus program aims to inspire young people to long for holiness, develop a deep desire for conversion and personally renew their faith with a stronger prayer life. Through evangelization and catechesis, Totus Tuus seeks to foster openness to the sacrifices and blessings of the various Christian vocations.
The week-long camps (9 a.m. to 3 p.m., Monday to Friday) are divided into two segments, with the day camp for students entering grades 1 – 6, and the evening camp (6:30 p.m.to 8:30 p.m., Monday to Friday) for middle school and high school students entering grades 7 – 12.
The younger children participate in four classes each day, attend daily Mass, learn the parts and liturgical songs of Mass, and participate in games, skits, songs, recess and prayer. The older students participate in instruction, small group discussions, quiet meditations, prayer and fellowship.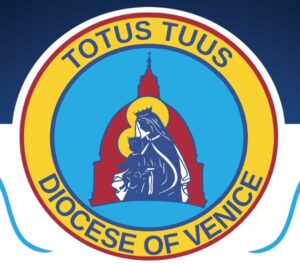 The goal of the Totus Tuus Summer Camp is to help young people grow in their understanding of, and strengthen of their faith in Jesus Christ, explained Marthamaria Morales, Diocesan Youth and Young Adult Director, and co-coordinator of the Totus Tuus program this summer. Each day of the weeklong camp, the children and youth learn lessons about prayer, from the basics of the Our Father to the Luminous Mysteries of the Rosary.
The 12 Totus Tuus missionaries (six men and six women) gathered at Epiphany Cathedral from May 25 to June 3, 2023, to prepare for the summer. Morales said key to this year was ensuring at least half of the missionaries were Spanish speakers, as this is a large segment of the young Catholic population in the Diocese.
The missionary training focused on what is needed from the missionaries and what they can expect to take place each week. This included how the daily camp will follow a basic structure with lessons, games and activities, each building up throughout the week. Part of the training included team-building exercises and the sharing of their personal stories, which is an important component to Totus Tuus camps, as these college-age leaders provide an authentic witness to the students.
From Diocesan staff, the missionaries learned about classroom management skills, public speaking, Christian character, nurturing Catholic life and much more.
Totus Tuus is a Latin phrase meaning "Totally Yours." It was a motto of St. John Paul II, taken from St. Louis de Montfort's "True Devotion to Mary." It signifies our desire to give ourselves entirely to Jesus Christ through Mary.
The Parishes hosting Totus Tuus this summer are: St. Katherine Drexel in Cape Coral, and St. Frances Xavier Cabrini in Parrish, June 4-9; St. Agnes in Naples, June 11-16; Ave Maria in Ave Maria and St. Peter the Apostle in Naples, June 18-23; St. Catherine in Sebring, June 25-30; Our Lady Queen of Heaven in La Belle, July 9-14; St. John XXIII in Fort Myers and St. Patrick in Sarasota, July 16-21; and Epiphany Cathedral in Venice and Our Lady of the Angels in Lakewood Ranch, July 23-28.
Morales said that while many of the Parish Totus Tuus camp slots are full, some openings are available. To inquire, please contacting the individual Parish religious education office which can be found by visiting https://dioceseofvenice.org/find-a-parish/. For further information regarding this program please visit https://dioceseofvenice.org/totustuus2023/.
The concept of this unique outreach was started in Wichita, Kansas in 1987 as a summer catechetical program and has grown into a weeklong summer camp which is now active in more than 50 Dioceses. The program has a proven track record of inspiring active stewards, fruitful vocations and a lifelong love for the Church.
The 2023 Totus Tuus missionaries are Kyle Elsner of San Diego, California; Andres Jimenez of Miami, Florida; Juan Hurtado of Miami, Florida; Abel Cordero of Silver Creek, Georgia; Nolan Fitzpatrick of Naples, Florida; Conner Bradley of Corona, California; Mairin Dulin of Warrington, Pennsylvania; Stephanie Salazar of Atlanta, Georgia; Natalia Cassata of Lombard, Illinois; Lorraine Gordan of Naperville, Illinois; and Victoria Cardona of Warrington, Pennsylvania. Additionally, two men, James Gates and Michael Courville, who were studying to be seminarians for the Diocese will be assisting the missionaries. Gates is a returning missionary from 2022.
Gates and Courville are both excited to offer their personal "Call of the Lord" to the missionaries and to all the young people they will encounter throughout the summer.
These missionaries were selected for their energy, enthusiasm, love of the Faith, commitment to spiritual growth, ability to work with a team and a desire to work with youth.