Father Dennis Cooney, longtime Pastor of St. Raphael Parish in Lehigh Acres died April 13, 2020. He was 71.
Bishop Frank J. Dewane said the death of Father Cooney was a loss for the Diocese and in particular St. Raphael Parish, where he served as Pastor for 19 years.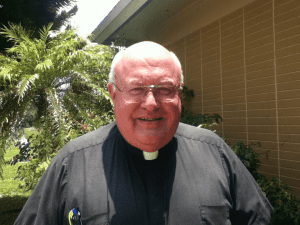 "Father Cooney was a priest who had a passion for his ministry," Bishop Dewane said. "Please pray for the repose of the soul of Father Cooney, for the people of St. Raphael who found inspiration by his good work, and for his family for whom this loss is particularly personal."
The death of Father Cooney is particularly difficult during this time when the public celebration of Mass has been suspended in the wake of the coronavirus pandemic. A memorial Mass will be held at a later date.
Father Cooney was born in 1947 in Brooklyn, NY., to a devoutly Catholic family and attended Catholic schools before entering Our Lady of Hope Junior Seminary in Newburgh, N.Y. and then Oblate College in Washington, D.C. for the Missionary Oblates of Mary Immaculate.
Ordained in 1974 at the Basilica Shrine of the Immaculate Conception in Washington, the first assignment for Father Cooney served for several years as Parochial Vicar at Immaculate Conception Parish in Washington. From there he studied at Pontifical University of St. Thomas Aquinas and earned his Licentiate in Sacred Theology (STL). Father Cooney then taught at the Oblate College before serving for seven years as a preaching missionary on the Oblate Mission Band. Following this service, her returned to Oblate College where he served as president and instructor from 1990 to 1992.
Father Cooney entered the Diocese of Venice in July 1994 and was incardinated into the Diocese in 1996. From 1994-2000 he served as Parochial Vicar of Ss. Peter and Paul the Apostles Parish in Bradenton. It was in 2000 when Father Cooney was appointed as Administrator of St. Raphael Parish in Lehigh Acres and as Pastor on June 27, 2001.
As Pastor of St. Raphael Parish, Father Cooney added an outdoor Stations of the Cross, erected a Shrine to the Unborn and later added statues of St. Michael and St. Gabriel the Archangels to the Prater Garden, joining statues of St. Raphael and St. Tobias. For the Diocese of Venice, Father Cooney was Moderator for the Respect Life Office and taught theology as part of the Diocesan Diaconate Formation Program.
A dynamic speaker of theological issues, Father Cooney was called upon to speak to numerous groups in the Diocese. He also served as the spiritual advisor for the Naples Founders Club of Ave Maria University; spiritual director for the faculty and students at Ave Maria University; Chaplain for the Naples Chapter of Legatus; and served on the Board of Directors of Priests for Life.
Father Cooney is survived by numerous family and friends.