Funeral Arrangements Included
The Diocese of Venice mourns the passing of Father Patrick C. Organ, who has served as Pastor of San Pedro Parish in North Port since 1992. Father Organ died June 9, 2022, in Sarasota after experiencing some health challenges; he was 77.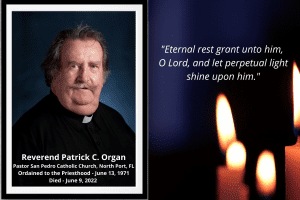 Father Organ served in the Diocese of Venice for 39 years and was a priest for 51 years.
The funeral arrangements for Father Patrick Organ are as follows:
A viewing will take place from 5 p.m. to 8 p.m., Monday, June 20, at San Pedro Parish, 14380 Tamiami Trail, North Port.
A Mass of Christian Burial will be celebrated at 11 a.m., Tuesday, June 21, at San Pedro Parish.
The Most Rev. Frank J. Dewane, Bishop of the Diocese of Venice, expressed his profound sadness at the loss of Father Organ.
"Let us keep the soul of Father Patrick in our prayers. As a longtime parish priest and Pastor, Father participated in many important moments in the pastoral and sacramental life of his parishioners. Baptisms, first communions, weddings, and funerals, he was there for it all; it pained him greatly to bear witness to the sad moments and gave him great happiness to share in the joyous moments.
"This is what we shall remember: Father's big heart, and his profound commitment to serving others as a priest.  We will also always remember his fine sense of humor and his pride in his Irish heritage! May he rest in peace!"
Bishop Dewane also expresses his deepest condolences for the parishioners of San Pedro Parish who are also suffering from this great loss. "Know you are in my prayers during this difficult time, and may you find comfort in the knowledge that Father Patrick is now on his journey to Our Lord."
It was on May 21, 1992, when Father Organ was appointed as Pastor of San Pedro, following four years as Pastor of Our Lady of Miraculous Medal Parish in Bokeelia (1988-1992). Under the direction of Father Organ, San Pedro Parish flourished and was well-positioned for future growth: A Parish Life Center with education space was completed in 1995, and further renovations added space for youth outreach in 2010. The Parish currently has 1,826 families.
Before his passing, Father Organ was planning to retire in August, and was looking not only to experience new adventures but also to staying involved with San Pedro Parish, a place that, after 31 years, he called his "home and family."
Born in Ennistymon, County Clare, Ireland in 1944, Father Patrick C. Organ was the eldest of five children. Having attended Ennistymon Christian Brothers Seminary and St. Kieran's Seminary in Kilkenny, Ireland, he was ordained on June 13, 1971, for the Archdiocese of Miami.
Father Organ served at Parishes in Lake Worth, Miami, Coral Springs, and Hollywood. Within the Diocese of Venice (established in 1984), Father served as Parochial Vicar at San Marco Parish on Marco Island, St. Charles Borromeo Parish in Port Charlotte, and then as Pastor of Our Lady of the Miraculous Medal Parish. In addition, through the years, Father also served on various Diocese of Venice boards and committees.
Details regarding funeral arrangements are pending and will be posted on the Diocese of Venice website at www.dioceseofvenice.org as well as on social media.