Remembering those who have gone before, Bishop Frank J. Dewane celebrated the annual Deacon Memorial Mass on Nov. 13, 2021, at Our Lady of Perpetual Help Retreat Center in Venice.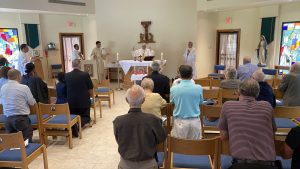 The Mass is held in November to coincide with the Month of All Souls. In addition to a number of Deacons and their spouses, also present were members of the Permanent Diaconate Formation Class of 2025, who, with their spouses, were on a weekend retreat in Sarasota.
Bishop Dewane said that we are all witnesses of hope. This comes from knowing that Jesus Christ rose from the dead and has promised us, all who believe in Him, the Way and the Truth and the Light. It is not only a hope but also a realization that those who have gone before us – they give us hope in the sharing of the Resurrection."
That hope changes how we look at the world and points us to things that are heavenly, the Bishop continued. We have been promised eternal life and must live accordingly through the gifts we have been given, each in their own way lifting us up to be more than we can be on our own.
"As the Gospel of John said to us, 'I shall raise him up on the last day.' (John 6:40) That applies to each one of us, each deacon or spouse who has gone before us. Let it be our hope that joins us with them daily. It is our strength," Bishop Dewane concluded.
The goal of the Memorial Mass is to bring together those Deacons, and their wives, serving today while honoring the memory of those who have served in the Diocese of Venice since its founding in 1984 while at the same time expressing gratitude to all for their answering the call of the Lord in a precise way.
As part of this annual tradition, during the Prayer Intentions, the names of those who have passed away during the previous year are solemnly read as candles are lit in their honor. Included in the list of names this year were Deacon George Doerr, Deacon Lin Pennypacker and Deacon John Henry Harrington.
A luncheon followed during which Deacon David Reardon, who is Diocesan Director of Diaconate Personnel, spoke on behalf of the Deacons and Diaconate aspirants present in thanking the Bishop for his support of the Permanent Diaconate program. Today, there are more than 75 Permanent Deacons, many seasonal, living and serving throughout the Diocese.