Couples from all across the Diocese of Venice recently attended a marriage prep "Day of Reflection" seminar specially designed for engaged couples preparing for the Sacrament of Holy Matrimony.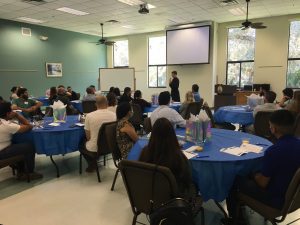 A volunteer team of married couples, clergy, and Natural Family Planning instructors shared their experiences and information Nov. 13, 2021, Our Lady of Perpetual Help Retreat Center in Venice. The intention of the seminar was to enable the 18 couples to become more aware of the privileges and responsibilities of a Catholic marriage.
The morning began with a presentation on the theology of sacramental marriage by Father Vincent Huber, FSSP, a Parochial Vicar at Christ the King Parish in Sarasota.
The Sacrament of Holy Matrimony is a supernatural calling by God for couples to strive to live holy, permanent, fruitful and lifelong marriages, explained Carrie Harkey Diocese Family Life Coordinator whose office sponsored the seminar.
"The role of husband and wife in a marriage is to help one another on this pilgrimage through life to get to heaven," Harkey said. "Following this firm foundation, couples explored how the Christian Faith is meant to challenge us to become holier. The Church's moral teachings are aimed at happiness."
Couples then spent private time around the OLPH grounds with discussion prompts and had the opportunity for the Sacrament of Reconciliation.
The afternoon was focused on life skills that lead to successful, holy, happy marriages. Couples also heard a presentation on Natural Family Planning from Margaret Kelly, FCPI- NFP.
Recognizing that finances are a normal and natural challenge in a marriage, the couples explored how the four Cardinal Virtues, habits that help us make good decisions – Prudence, Justice, Fortitude and Temperance – can be used to make sound decisions.
Finally, the day wrapped up focusing on living as a Catholic family. Deacon Ron and Silvia Dains, as well as Keith and Carla Geurts, couples representing decades of marriage experience, shared their tips and advice for lifelong success. It was stressed that married love between spouses, rooted in Christ, flows out into family life, friendships, and the world.
One participant commented that the experience was a "great time to step away from daily life and put our decision to marry in proper perspective."
For more information about the seminar or to participate in one of the days being held in 2022 contact, please Carrie Harkey at 941-484-9543 or harkey@dioceseofvenice.org.