Year honoring Protector of Universal Church continues
To foster deep devotion to Saint Joseph among Catholics, and in response to the "May Day" celebrations for workers sponsored by Communists, Pope Pius XII instituted the Memorial of Saint Joseph the Worker in 1955. This feast extends the long relationship between Joseph and the cause of workers in both Catholic faith and devotion.
Because Saint Joseph is Protector of the Universal Church, Bishop Frank J. Dewane consecrated the Diocese of Venice to a "Year of St. Joseph" in the context of the COVID-19 Pandemic beginning March 19, 2020.
"I dedicated the Diocese to Saint Joseph, the Protector, so that the faithful would be safe," Bishop Dewane said. "This year, as we celebrate the Memorial of Saint Joseph the Worker, that commitment to honor Saint Joseph, a model of obedience, freely and willingly accepting a vision he was given in life by God."
The Bishop added that Saint Joseph was called to be the foster-father of Jesus but also the head of the Holy Family; "the provider and the Protector. Using this remarkable Saint as our example, we must continue to devote ourselves to living a life that is dedicated to Jesus. Take St. Joseph as a role model going forward."
The Diocese dedication to a "Year of Saint Joseph" was extended to continue until Dec. 8, 2021. This was in direct support of Pope Francis creating a Universal "Year of Saint Joseph" from Dec. 8, 2020 to Dec. 8, 2021. The announcement of the Holy Father coincided with the 150th anniversary of the Saint's proclamation as Patron of the Universal Church by Pope Pius IX on Dec. 8, 1870 in his decree Quemadmodum Deus.
Pope Francis said he was establishing the year so that "every member of the faithful, following his example, may strengthen their life of faith daily in the complete fulfillment of God's will."
To mark the occasion, Pope Francis distributed an Apostolic Letter Patris Corde, which translates to "With a Father's Heart," in which he describes Saint Joseph as a beloved father, a tender and loving father, an obedient father, an accepting father, a father who is creatively courageous, a working father and a father in the shadows.
Written against the backdrop of the COVID-19 pandemic, Pope Francis said the Pandemic has heightened his desire to reflect on Saint Joseph, as so many people during the pandemic have made hidden sacrifices to protect others, just as Saint Joseph quietly protected and cared for Mary and Jesus.
"Each of us can discover in Joseph — the man who goes unnoticed, a daily, discreet and hidden presence — an intercessor, a support and a guide in times of trouble," the Holy Father wrote.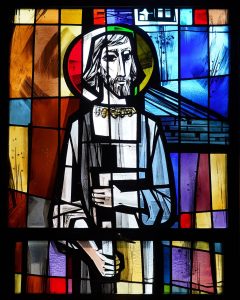 Pope Francis describes Saint Joseph as a noble saint, who was given the noble task of caring and watching over the Virgin Mary and Jesus, and now cares for and watches over the Church and models for all the dignity of human work.
He also said he wanted to highlight St. Joseph's role as a father who served his family with charity and humility, adding, "Our world today needs fathers."
In some images, Saint Joseph is seen holding lilies, which symbolize integrity and indicate that he was the earthly spouse of the Blessed Mother, whose purity is represented by a white lily. A group of three lilies can represent the Trinity. It is believed that St. Joseph died before Jesus began his public ministry.
Saint Joseph is known as the patron saint of the Universal Church, a happy death, families, fathers, expectant mothers, explorers, pilgrims, travelers, immigrants, home sellers and buyers, craftsmen, engineers and working people. Also, many cities and countries are dedicated to him.
The Diocese of Venice has several locations named in honor of Saint Joseph including the following: St. Joseph Parish in Bradenton; St. Joseph Catholic School in Bradenton; St. Joseph the Worker Parish in Moore Haven; San Jose Mission in Fort Myers and Campo San Jose Retreat Center in Lake Placid.
Many people pray to Saint Joseph for intercession, including praying novenas, a nine-day series of prayers or devotions. The Diocese of Venice has created a quick-reference website for key elements of the ongoing "Year of Saint Joseph," including information about the locations named after the Saint, which can all be found at https://dioceseofvenice.org/a-year-of-st-joseph/.
Information from the Catholic News Service is included in this report.
NOTE: The "Year of Saint Joseph" also includes the opportunity to receive a plenary indulgence. For an exclusive online story about this, please visit www.dioceseofvenice.org/news.