Prayer service honor Mary held at Catholic Center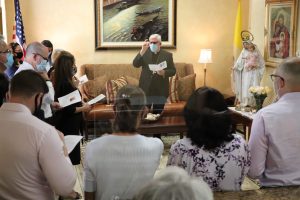 As May is a month dedicated to the Blessed Virgin Mary, Bishop Frank J. Dewane led a prayer service in honor of the Blessed Virgin Mary for the staff of the Diocese of Venice Catholic Center on May 3, 2021. The prayer service took place in the entrance lobby where a statue of the Blessed Virgin is on display. In addition to prayers, the staff also sang two songs in honor of Our Lady.
Dispensation from the obligation to attend Mass ended May 1
As Bishop Frank J. Dewane continues to listen to public health data and hear from Priests and Parishioners about their experiences at Diocesan Parishes, the dispensation from the obligation to attend Sunday Mass was lifted in the Diocese of Venice beginning May 1, 2021. For a letter from Bishop Dewane and the revised guidelines updating Parish safety protocols which includes the need to continue to wear masks at Mass, as well as at all Diocesan and Parish activities, please visit https://dioceseofvenice.org/offices/daily-resources/diocese-of-venice-responds-to-novel-coronavirus-covid19/ for English and for Spanish, please visit https://dioceseofvenice.org/offices/offices-departments/hispanic-apostolate/.
Naples artist does well in county competition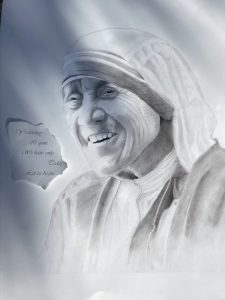 St. John Neumann Catholic High School student Thomas Lund took second prize in the 2021 Collier County High School Art Competition hosted by the Marco Island Center for the Arts announced on April 27, 2021. Lund submitted a drawing of St. Mother Teresa for the competition. Well done.
Outdoor band concert impresses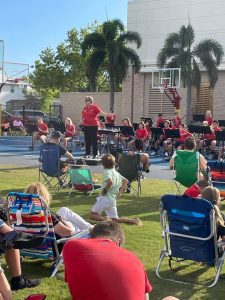 The 6th grade band and the 7th/8th grade Advanced Band of St. Ann Catholic School in Naples performed an outdoor concert on April 29, 2021. Under the direction of Marjorie Huelsman, the bands played a wide selection of music for family, friends and supporters of the school. Attendees sat in lawn chairs as the evening concert was held on the basketball court and athletic field.
Cheer team wins competition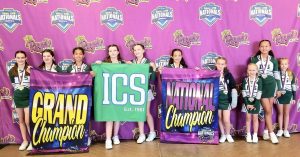 The Incarnation Catholic School Cheer Team from Sarasota took the National Champion and Grand Champion titles at the Crown Cheer and Dance Small Gym Nationals held May 1, 2021 at the Bradenton Convention Center. With flawless movement on the mat, and ignoring the fact that finding practice time leading up to this competition was a challenge, the team prevailed. Well done ladies!
English Charismatic Renewal Pentecost Celebration in Punta Gorda
The Diocese of Venice English Charismatic Renewal will hold a Pentecost Celebration from 2:30-5 p.m., May 23, 2021 at Sacred Heart Parish, 211 W. Charlotte Ave., Punta Gorda. The event will include praise and worship as well as Mass. No registration is required. For more information, please email info@dvccr.org or contact Renee Mazaron at 419-343-1604.
Diocesan CCW Convention June 4-5
The Venice Diocesan Council of Catholic Women's 34th Annual Convention, with a theme of "What have you done for the least of my people?" (Matt 25:40), will be June 4 and June 5, 2021 at Our Lady of Lourdes Catholic Church, 1301 Center Road, Venice. The cost of the two-day convention is $75, or $65 for one day (lunch included). Each day will include personal development time, dynamic speakers and workshops, as well as providing the opportunity to meet women from around the Diocese along with the President of the Florida Council of Women. For registration information, please contact Bernadette Raftery at 704-968-9580 or raffs2@mindspring.com or Ellen Bachman at 941-721-7393 or pennyln99@aol.com. Please register by May 25.
Stepping into Marriage with Children
Did you know 60 percent of second marriages fail and the failure rate increases to 70 percent when there are children from a previous marriage in the home. The difficulties of parenting and stepparenting, seemingly insurmountable, are often the root cause of such failures. A free half day workshop, organized by the Diocese Office of Family Life, entitled "Stepping into Marriage with Children" is designed for those couples beginning or currently in a stepfamily situation. This workshop will take place from 9 a.m. to noon, May 15, 2021 at Our Lady of Light Parish, 19680 Cypress View Drive, Fort Myers. This workshop takes a realistic look at blended families and offers strategies and tools to meet unique challenges. There is no cost to attend but registration is required at https://dioceseofvenice.regfox.com/stepping-into-marriage-with-children. For further information please contact Carrie Harkey at harkey@dioceseofvenice.org or 941-484-9543.
Year of the Family
On March 19, 2021, the fifth anniversary of the Apostolic Exhortation Amoris Laetitia, on the joy and beauty of familial love, Pope Francis inaugurated the year "Amoris Laetitia Family" which will conclude on June 26, 2022 on the occasion of the next World Meeting of Families in Rome. When announced, the Dicastery said in a statement, "The Pandemic experience has highlighted the central role of the family as the domestic Church and has shown the importance of community ties between families". To learn more about the effort and the initiatives occurring in the Diocese of Venice during this commemorative year visit https://dioceseofvenice.org/year-of-the-family/.
8th Annual Marian Eucharistic Conference
All are invited to the 8th Annual Marian Eucharistic Conference at Ave Maria University from May 14 to May 16, 2021. Featured speakers will include Dr. Mark Miravalle, John Paul II Chair of Mariology, Franciscan University of Steubenville; Kathleen Beckman L.H.S., author and President of Foundation of Prayer for Priests; Dr. Edward Sri, theologian, author, and co-founding leader of FOCUS (Fellowship of Catholic University Students); and Roy Shoeman, speaker and author of "Salvation is from the Jews" and "Honey from the Rock." Please visit www.aveconferences.com to register for this event. Lodging and meals available. For more information call 239-348-4725 or email aveconferences@gmail.com.