Marthamaria Morales considers herself blessed to be a "Missionary in Paradise."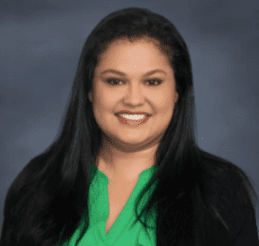 Morales is the new Diocese of Venice Director of Youth and Youth Adult Outreach which means she will be journeying with young people in the Catholic Faith, a post she describes as one of the most exciting and rewarding experiences for a Church leader.
"My passion is to accompany those who serve the young people," Morales said. "To provide opportunities for inspiration and faith sharing that models love, mercy, service, and solidarity. This means facilitating an encounter with Jesus in the other. You hope to offer opportunities for them to learn about their faith and be engaged, challenged and feel called by the love of Jesus to serve in the community and be peacemakers that inspire a whole new generation of Catholics with joy."
Morales is still finding her way in the Diocese, visiting Parishes, meeting priests, religious, youth leaders, as well as youth and young adults all to create a plan under the leadership and vision of Bishop Frank J. Dewane.
"With their help and key input, a holistic action plan can be drafted," Morales continued. "This will require hard work, commitment, determination, a common vision, and passion. I know that together we can accomplish a lot. I put all this in prayer, trusting in the Holy Spirit!"
An important aspect of Morales' focus will be to help reconnect young adults to the faith, particularly those who disengage themselves when they complete the Sacraments, go off to college or enter the workforce.
"We cannot leave them to find a connection to the Church; we need to accompany them as they make the transition to this time in their lives," Morales explained. This connection is essential and would be an extension of the work of Parish youth groups and an increased Catholic presence on local college campuses.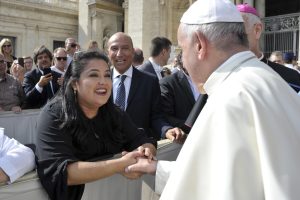 Born in California, Morales was raised by her grandparents in Guatemala. She is a graduate of the University of San Carlos de Guatemala and has many years of experience in the field of youth and young adult outreach and programs. Previously, she served as the Hispanic Ministry Director and Youth and Young Adult Director in the Diocese of Birmingham, Alabama. Her prior work experience includes time at the U.S. Conference of Catholic Bishops, where she was a Poverty Education and Outreach Manager, as well as a producer and on-air talent for EWTN.
"I believe in the mission, and trust wholeheartedly that God is leading us," Morales said. "My work allows me to dream big, empower and cultivate potential in others, while identifying their God-given gifts to work collaboratively."
To accomplish this, Morales first led a Diocesan group to the National March for Life in Washington, D.C. on Jan. 19-20, 2023. She is also currently focusing right now on the Eucharistic Congress Youth Rally (high schoolers) on March 24 in Fort Myers. Looking ahead, she is coordinating the return of Totus Tuus (for elementary school kids and teens, in 12 different Parishes) and World Youth Day in Portugal this summer, taking a delegation of around 40 people representing the Diocese.
On the young adult side of her work, Morales is becoming actively involved in the Theology on Tap in Sarasota every third Thursday of the month and is in contact with young adult groups at Parishes in Lee and Collier counties.
Marthamaria Morales can be contacted at the Catholic Center in Venice at 941-484-9543 or at morales@dioceseofvenice.org.