Youth "Rock the Universe"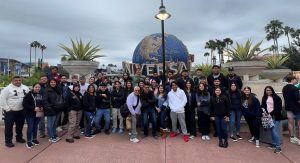 Youth from the Diocese of Venice took part in the annual "Rock the Universe" at Universal Studios in Orlando on Jan. 28, 2023. "Rock the Universe" is an annual Christian rock festival which has been taking place since 1998. Among the groups present was the youth team from Holy Cross Parish in Palmetto, led by Carmen Martinez.  Joining this team was Marthamaria Morales, Diocesan Youth and Young Adult Outreach Director.
Ball supports education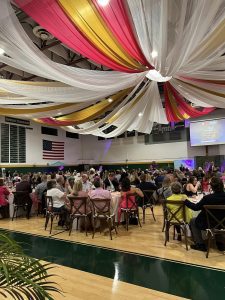 The gymnasium of St. John Neumann Catholic High School in Naples had an extreme makeover and served as the site of the annual Celtic Ball benefitting the school. The Ball, with a theme of "Palm Beach Chic Celebration," took place Jan. 29, 2023, with Bishop Frank J. Dewane serving as the guest of honor. The purpose of the Ball was also to celebrate the next generation of Catholic leaders who are the beneficiaries of the faith-based education at St. John Neumann Catholic High School.
Youth wash cars in Fort Myers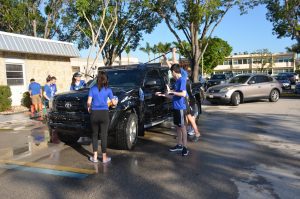 Throughout the year, the youth at St. Cecilia Parish in Fort Myers host a series of fun events to raise money so they can participate in a variety of activities throughout the year. On Jan. 29, 2023, the teens hosted a car wash, washing cars while parishioners were either at Mass, or getting donuts and coffee in the Parish Hall after Mass. The money raised will allow the teens the ability to participate in the Diocesan Eucharistic Congress Youth Rally, as well as a variety of trips, each of which help the youth learn to grow closer to the Lord.
Rummage sale offered wide selection of goods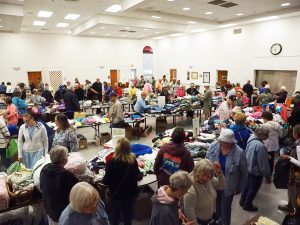 The Women's Guild at Our Lady of Grace Parish in Avon Park hosted a Rummage Sale in the Grogan Center on Jan. 27 and Jan. 28, 2023. There were dozens of tables filled with items such as clothing, cookware, artwork and much more. The money raised supports the outreach the Women's Guild does throughout the year.
Students recognized for artistic talent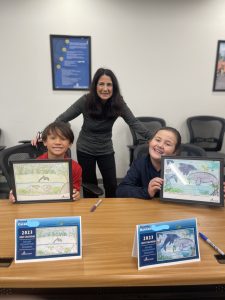 St. Martha Catholic School students Caleb Shouse (4th grade), and Hannah Lomangino (3rd grade), had their artwork selected for the 2023 Sarasota County Government NEST (Neighborhood Environmental Stewardship Team) Calendar. Caleb's artwork is featured on the November page and Hannah's is on the December Page. They were honored, with the other winners, during an awards ceremony on Jan. 31, 2023, in Sarasota. Their art teacher, Mary Jo Salomone, was also present for the awards presentation.
Fort Myers sports teams ready for Districts
The Bishop Verot Catholic High School boys' soccer team locked up the No. 1 seed in the 3A District 8 District Tournament for the fourth year in a row. The Verot girls' basketball team also dominated this season under new head coach, Alissa Schenk, and enter the 3A District 12 District Tournament as the No. 1 seed. Well done Vikings!