"A Seminarian Story" eighth installment available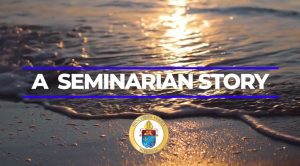 The Diocese of Venice in Florida Office of Vocations launched a video series titled, "A Seminarian Story," to celebrate the 16 Seminarians currently in formation for the Diocese. The first eight videos have been released and more will follow approximately every few weeks. The most recent video is about Seminarian Carlos Rodriguez who is in formation at St. Vincent de Paul Regional Seminary in Boynton Beach and is currently serving a Pastoral Year at Sacred Heart Parish in Bradenton.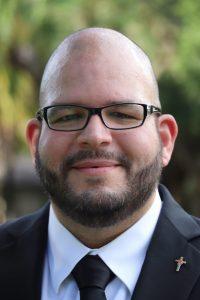 Developed with the assistance of the Diocese Communications Department, the goal of the series is to inspire others to follow in the path to the priesthood or religious life, as well as encourage the faithful to continue to support the seminarians as they continue their formation process at different seminaries. "A Seminarian Story" featuring Carlos Rodriguez can be found at https://vimeo.com/521110630.
Solidarity with seafarers as key essential workers
Each year, the Coalition of Catholic Organizations Against Human Trafficking (CCOAHT) launches a Campaign that begins during Lent to raise Catholic awareness of forced labor in the fishing industry. This year, due to the global pandemic, a new humanitarian crisis has emerged that is severely impacting all men and women who work at sea. Thus in 2021, CCOAHT – together with Stella Maris and the Apostleship of the Sea of the United States of America (AOS-USA) – are urging Catholics and all people of good will to pay witness to the life of the seafarer and to leverage their voices as community members and consumers to uplift the safety and wellbeing of one of the world's most invisible group of essential workers.
Feast of St. Joseph Mass in Venice
On the Feast of Saint Joseph, a Mass in Italian will be celebrated by Bishop Frank Dewane at 12:30 p.m., March 19, 2021 at Epiphany Cathedral, 350 Tampa Ave. W., Venice. The Italian American Club of Venice is providing the bread for the St. Joseph Table. The bread will be blessed following Mass and all items will be individually wrapped. All are welcome to attend following social distancing and mask requirement protocols.
Palm Sunday and Easter Sunday Televised Mass
The Diocese of Venice in Florida will air the televised Palm Sunday and Easter Sunday Masses, each for a full hour. The Masses can be viewed at 9:00 a.m. on the CW Network in Sarasota, Manatee, Desoto, Charlotte, Hardee and Highland counties, and at 10:30 a.m. on FOX4 in Charlotte, Lee, Collier, Hendry, Glades and Desoto counties. The Mass is also available on the Diocese of Venice website at www.dioceseofvenice.org/tvmass.
Divine Mercy Novena
The Divine Mercy Novena begins on Good Friday, April 2, 2021 and concludes Saturday, April 10. In private revelations to St. Faustina, Jesus asked that the Feast of Divine Mercy be preceded by a novena praying for nine intentions with the Divine Mercy Chaplet. It is particularly appropriate for anyone who has been touched by abortion or is nearing death. The novena can be accessed online at www.thedivinemercy.org/message/devotions/novena.php. For more details, contact Sylvia at 941-412-5860 or project.rachel@dioceseofvenice.org.
2021 Marriage Preparation Retreats
The Diocesan Office of Family Life is offering "Day of Reflection" retreats for couples preparing for the Sacrament of Marriage. A specially prepared volunteer team of married couples and a priest will share their experiences and information with the intention of enabling couples to be more aware of the privileges and responsibilities of marriage. The retreats in English are from 9:30 a.m. to 5 p.m., on the following Saturdays: April 17, August 7, and November 13. Retreats in Spanish are at the same time and will be the following Saturdays: March 6, August 7, and October 30. Please visit https://dioceseofvenice.regfox.com/marriage-preparation-retreat-2021 to register for the English retreats. To sign up for the retreat in Spanish, please contact St. Jude Parish in Sarasota at 941-955-3934. For more information or to inquire about a virtual option contact Carrie Harkey at 941-484-9543 ext. 3019.
Faith and Wine Lee County
The next gathering of Faith and Wine Lee County will be a virtual Zoom event beginning at 7 p.m., March 18, 2021. The speaker is Cy Kellett, the host of Catholic Answers Live, who will present "Whatever Happened to the Modern World?" Advanced registration is required by visiting https://faithandwineleecounty.com.
Easter Triduum Retreat at OLPH
The Our Lady of Perpetual Help Retreat and Spirituality Center in Venice continues to offer single days of prayer and overnight retreats in a safe, tranquil setting along the Myakka River. The Easter Triduum retreat begins with supper on Holy Thursday (April 1, 2021) and ends with breakfast on Easter Sunday (April 4).  The liturgies of the Lord's Supper, Way of the Cross, Commemoration of the Lord's Passion, Easter Vigil, and Sunrise Easter Liturgy are celebrated. Confessions are available. For more info or to register, call Denise Riley at 941-486 0233, ext. 3004, or visit www.olph-retreat.org and click on "Schedule of Events."