The Cardinal Money Catholic High School Lady Cougars basketball team fell short of their goal of winning a State Championship, but they ended an historic season with their heads held high.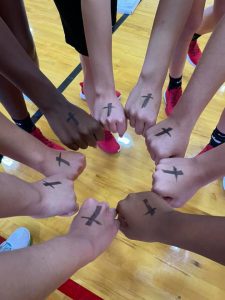 The Lady Cougars fell to Miami Country Day 59-34 in the March 5, 2021 State Class 3A Final at RP Funding Center in Lakeland. The team struggled offensively and fell behind early against a team which is ranked nationally and claimed their seventh state title in eight years.
This was the deepest run for the Lady Cougars whose previous trip to the State Final Four was in 1997. There are no seniors on the 9-player roster, so the future looks bright for the team which finished its season 20-9.
The Sarasota team won the Class 3A Semifinal over The Master's Academy of Oviedo (47-32) on Feb. 24 in Lakeland and expected to play the State Final on Feb. 26. That game was postponed a week, rescheduled to the morning of March 5 when a smothering defense and poor shooting ended their hopes of victory.
Sophomores Jordyn Byrd and Olivia Davis, who had been the foundation for the team all season, were showcased in the final with Byrd scoring nine points and collecting 14 rebounds, and Davis scoring six points.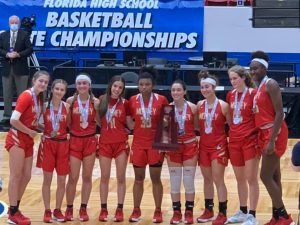 Speaking to reporters after the game, Coach Rico Antonio and each player expressed their heartbreak at the loss but refocused on the potential the team has moving forward.
If social media comments are any measure, the Lady Cougars returned to their school community as inspirations to others for representing Cardinal Mooney Catholic High School.
The day before the game, School Chaplain Father Eric Scanlan gave the girls a pre-game blessing and marked each with a cross on the back of their hand.