Students learn about election process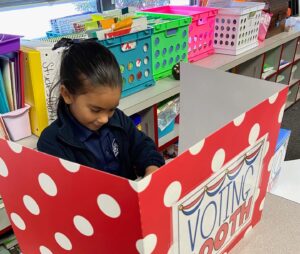 It is never too early to learn about one of the cornerstones of a democracy, the opportunity for a free and open election. At St. Andrew Catholic School in Cape Coral, the first graders learned all about the election process and the importance of voting on Nov. 7, 2023. Students then conducted their own classroom vote, complete with election booths and banners promoting the two "candidates." On the ballot was which cookie is best, chocolate chip or Oreo? The winner was the chocolate chip cookie with a vote of 13-8.
Students donate blood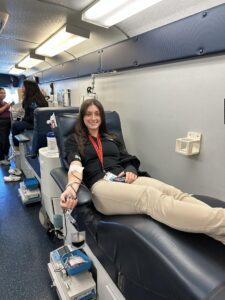 More than 60 Cardinal Mooney Catholic High School students from Sarasota took part in a blood drive on Nov. 7, 2023, in support of the SunCoast Blood Centers. This opportunity to serve the community reinforced the goal of each student at Cardinal Mooney, which is to make a difference. Together, the students' collective efforts can transform lives.
Athletes sign with colleges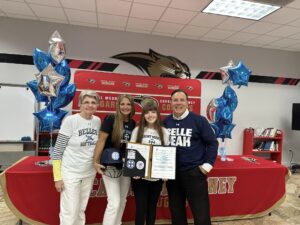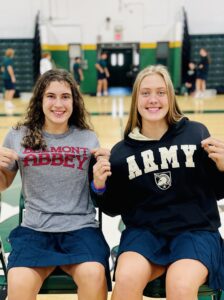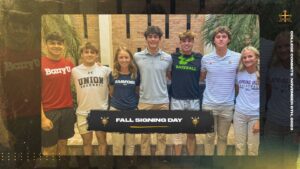 There were 10 different student athletes from three Diocesan Catholic high schools who signed their letter of intent to pursue athletics at the collegiate level. Most of the signings took place on Nov. 8, 2023. From Cardinal Mooney Catholic High School in Sarasota, Madison Duncan has signed with Saint Mary's College, Notre Dame, Indiana, to pursue her passion for softball. At St. John Neumann Catholic High School in Naples, two girls' basketball stars have made their commitments. Sophia McCartney has accepted an appointment to the U.S. Military Academy at West Point, while Sydney Martin will continue her career at Belmont Abbey College, Belmont, N.C. Meanwhile, Bishop Verot Catholic High School in Fort Myers had seven athletes make commitments. They are, Jason Bello, baseball, University of South Florida, Tampa; Morgan Franklin, golf, Samford University, Homewood, Alabama; Maddix Simpson, baseball, Ohio State University; Owen Rodriguez, lacrosse, Wingate (N.C.) University; Zoe Vadas, rowing, College of the Holy Cross, Worcester, Massachusetts; Curtis Couillard, baseball, Union College, Schenectady, N.Y.; and Marissa Peck, beach volleyball, Spring Hill College, Mobile, Alabama. Congratulations to all these athletes and prayers and best of luck in your college careers.