Rite of Candidacy for two seminarians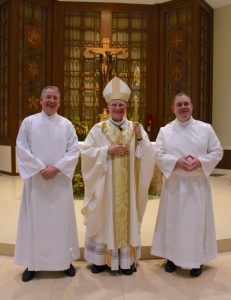 William Patrick Long and T. Gregory Dougherty received Candidacy for the Orders of Diaconate and Priesthood at Pope St. John XXIII National Seminary in Weston, Massachusetts on Oct. 27, 2021. Most Rev. Timothy Broglio, Archbishop of the Military Service USA, presided over the Rite for nine seminarians including Long and Dougherty. During the Rite, each man publicly expressed his intention to embrace the formation process for Holy Orders and stated his resolve to fully invest himself to that end. The men will continue in their studies to become Catholic priests.
40 Days for Life ends with Jericho walk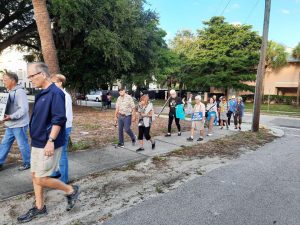 The fall 40 Days for Life prayer campaign to end abortion in the United States came to an end on Oct. 30, 2021 with a symbolic Jericho Walk in front of the Planned Parenthood abortion facility in downtown Sarasota. The Sarasota walk has concluded with the evening walk at sunset for the past several years as supporters gather walk silently around the building until sunset. The evening included prayers and encouragement that the battle for life does not end but continues until all unborn children are saved. The 40 Days for Life fall campaign evening walk started Sept. 22and local local vigils took place in Sarasota and Fort Myers joining similar prayer vigils at cities around the world.
Catholic Medical Association Guild board meets with Bishop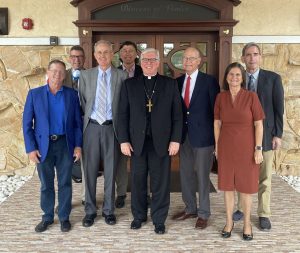 Leadership of the Southwest Florida Guild of the Catholic Medical Association met with Bishop Frank J. Dewane on Oct. 28, 2021 at the Catholic Center in Venice. The leadership provided Bishop Dewane with their annual report on their latest activities.
Cathedral Concert Series resumes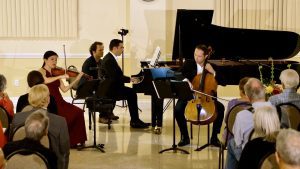 The Epiphany Cathedral Concert Series returned Oct. 28, 2021 with a presentation from the Mirage Piano Trio, with works by Debussy, Bach and Mendelssohn. The next offering is in the planning stages. To learn more call 941-484-3505 or visit www.epiphanycathedral.org/about/events/.
Students visit college to learn about panthers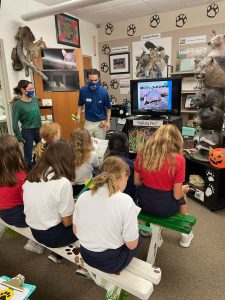 After completing a section of their science class about the Florida panther, fourth grade students from St. Ann Catholic School in Naples took a field trip to visit the Panther Posse at Florida Gulf Coast University in Estero. There the students learned from wildlife experts about the big cats who are native to the area and are an endangered species because of human interaction and encroachment into their habitat. They learned how important they panther is to the delicate balance of nature throughout south Florida.
Students learn how to handle flag from veterans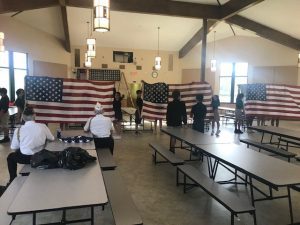 Eighth-grade students at St. Elizabeth Seton Catholic School in Naples took part in flag training on Oct. 26, 2021. Members of the local Veterans of Foreign Wars Post showed the students how to handle the American Flag from unfolding it, raising on a flagpole, and then properly folding it afterwards. As school leaders it is important for the eight graders to know the proper procedure for handling the flag and to learn from experts, military veterans.
Freshmen retreat held in Sarasota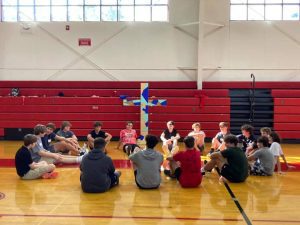 The Cardinal Mooney Catholic High School Senior Peer Ministry class hosted the freshmen retreat "Made in God's Image" on Oct. 26, 2021 in Sarasota. It was a wonderful day of prayer and bonding with classmates.
Students monitor the weather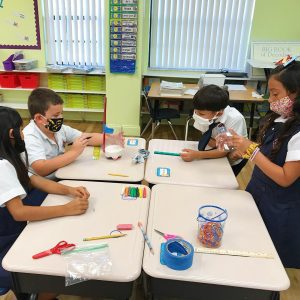 Second grade students at St. Catherine Catholic School in Sebring took on the task of building rain gauges using limited resources and materials on Oct. 28, 2021. The gauges use a basic design using the bottom of a 2-litter plastic bottle to monitor the rain and temperature. This is part on an ongoing STREAM (Science, Technology, Religion, Engineering, Arts and Math) curriculum at the school for students of all ages.