Memorial Mass on Veterans Day to be livestreamed
Each year the Diocese of Venice holds a Memorial Mass on Veterans Day in honor of the men and women who have served our country and continue to serve and protect us today. The restrictions regarding public gatherings at the Sarasota National Cemetery has precluded holding the Mass at this beautiful site. This year, the Mass to be celebrated by Bishop Frank J. Dewane, will be held at 3 p.m., Nov. 11, 2020. The Mass will be live streamed so that all may participate on this important day at facebook.com/dioceseofvenice.org/videos. You do not need to have an account to view the Mass. Please contact Gail Ardy at ardy@dioceseofvenice.org or 941-484-9543 for further information.
UnBall virtual event Nov. 12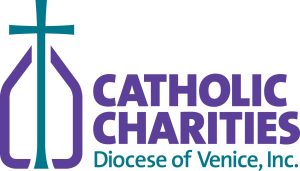 Catholic Charities Diocese of Venice invites everyone to participate in The UnBall, a Virtual Charity Ball to raise funds to help stop human trafficking. Mark your calendar and join at 7 p.m., Nov. 12, 2020. Due to the pandemic and the postponement of the Venetian Ball, the Venetian Ball Committee created The UnBall virtual event. Join Catholic Charities for an hour-long event to raise awareness and stop modern day slavery. Human trafficking is not in the shadows or in faraway nations, it happens in plain sight in our community. Listen to a survivor-leader share her inspirational story and learn how you can make an impact. The UnBall supports the programs and services of Catholic Charities, Diocese of Venice, Inc. in Lee, Hendry, and Glades counties which include Positive Youth Development Program, Senior Support Coordination Program, Anti Human Trafficking Assistance Program, immigration services, food assistance, and pantries, baby supplies, and disaster response and recovery. For more information, please contact Janet Pavelack at janet.paverlack@catholiccharitiesdov.org, 239-334-4007 ext. 2101 or by visiting www.catholiccharitiesdov.org.
Mooney student helps hurricane victims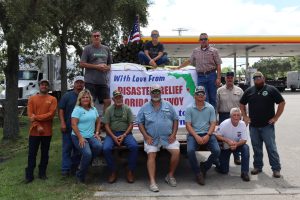 Cardinal Mooney Catholic High School Senior Mallory Albritton started a relief effort to help farmers and ranchers in Louisiana after Hurricane Laura hit in late August 2020. Mallory coordinated a BBQ fundraiser to make money and buy supplies they needed for the farmers. She helped raise almost $8,000. Mallory, and other supporters from Sarasota, delivered all the supplies on Oct. 1, 2020, before the same region was hit by Hurricane Delta on Oct. 10,
Student assemble 1,000 PPE packets for community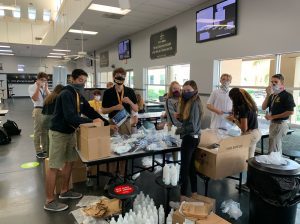 Students of Catholics in Action Club at Bishop Verot Catholic High School assembled 1,000 PPE (personal protective equipment) packets on Oct. 2, 2020 in Fort Myers which will soon be distributed to Catholic Charities, Diocese of Venice, Inc. and throughout the community as needed.
Neumann golf team finishes regular season undefeated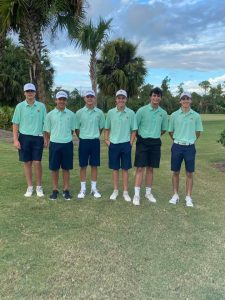 Congratulations St. John Neumann Catholic High School Celtic Boys Golf Team for recently finishing their regular season undefeated. The team also placed third in Districts, Next up for the Naples team will be the regional competition the week of Oct. 19, 2020.
Surviving Divorce Retreat Nov. 21 in Fort Myers
The Diocese Office of Marriage and Family Life is hosting a Surviving Divorce Retreat, 9 a.m.-3 pm., Nov. 21, 2020, at Resurrection Parish, 8121 Cypress Lake Drive, Fort Myers. The retreat is open to all and will feature speaker Rose Sweet with a talk titled, "Surviving Divorce: Hope and Healing for the Catholic Family." The cost is $15 and includes a continental breakfast and lunch. Please register at www.dioceseofvenice.org/divorce. For more information, please contact Carrie Harkey at harkey@dioceseofvenice.org.