Mass for Victims of Child Abuse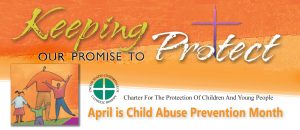 April is Child Abuse Awareness Prevention Month, and in conjunction with the Secretariat of Child and Youth Protection of the United States Conference of Catholic Bishops (USCCB), the Diocese of Venice has held a Mass for Victims of Child Abuse for the past 12 years. The Mass this year will be celebrated by Bishop Frank J. Dewane via a live stream at 9:15 a.m. on April 21 from the Catholic Center.
Parish connects with faithful through Blessed Sacrament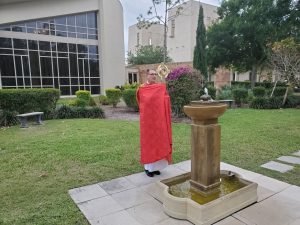 With Mass suspended until further notice, priests across the Diocese of Venice have struggled to remain connected to the faithful. Father Bob Kantor, Pastor of St. Agnes Parish in Naples, chose to bless the Parish with the Blessed Sacrament.
Following the live streaming of the Palm Sunday liturgy, Father Kantor processed through the Parish grounds, pausing at key locations for a prayer and lifting the monstrance in a sign of the Cross blessing to the north, south, east and west. Stops included the Columbarium, the Prayer Garden, the main parking lot, and finally on the main walkway to the main entrance of the church.
"At each of the stops I prayed an Our Father, Hail Mary and Glory be and then asked our Lord to bring the healing that only He can give, praying a spontaneous prayer quietly," Father Kantor wrote. Each stop included prayers for specific groups of people, such as seeking comfort and eternal peace for all those who have died from Covid-19 and consolation and peace for their families.
Holy Oils switched out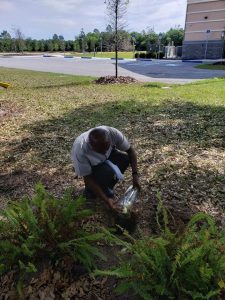 On Holy Saturday, Father Augustine Twum Obour, Parochial Vicar at Our Lady of the Angels Parish in Lakewood Ranch, buries the Sacred oil remaining from last year, according to the guidelines for disposing of such oils, after they were replaced with newly blessed and consecrated oils during Holy Week. The oils were blessed and consecrated during the April 7, 2020, Chrism Mass at Epiphany Cathedral in Venice. and is reloading with new Oil of the Infirmed in his travel containers.
Confessions while staying safe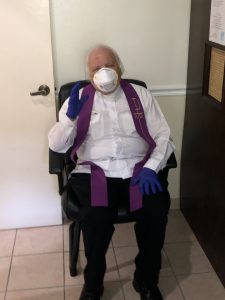 Pallottine Father Fausto Stampiglia, Pastor of St. Martha Parish in Sarasota, is protected while waiting to hear confessions-by-appointment from a make-shift window in the offices of the Parish.
Parish recognizes medical professionals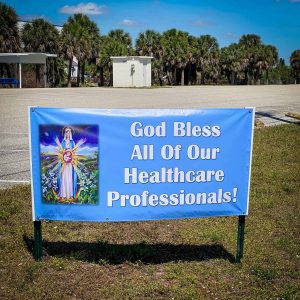 St. Charles Borromeo Parish in Port Charlotte sits near two hospitals and shares a parking lot with one. Therefore, it was logical that a sign which reads: "God Bless All of Our Healthcare Professionals!" was placed at the entrance to the employee parking lot Bayfront Heath Port Charlotte. On the sign is an image of the Blessed Virgin Mary which shows a baby in the womb of Mary surrounded by a field of flowers.
Prayer continues at schools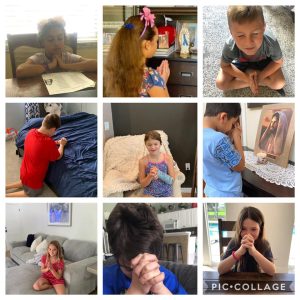 St. Francis Xavier Catholic School students of third grade Teacher Debra Hawkins are still saying prayers to begin and end their days. The Fort Myers students are among thousands who are currently taking part in distance learning.
Verot students show school spirit – virtually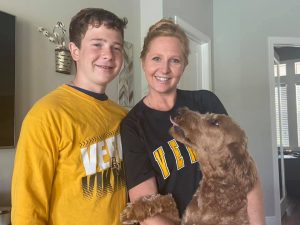 Bishop Verot Catholic High School students in Fort Myers were asked to share images of them wearing school colors on April 8, 2020, to show their school spirit. Images shared included students hard at work, lounging around and having fun.
Naples school hosts virtual retreat
The St. John Neumann Catholic High School Y.A.C.H.T. Club (Youth and Christ Helping Together) students hosted a virtual retreat for their peers Holy Thursday and Good Friday. This retreat, which included prayer and adoration, was opened to non-students as well. The mission of the YACHT Club is to invite all students to the fullness of Christ's love through service to others.
Catholic Schools offering virtual tours
With Catholic school campuses closed, many are now offering new families an opportunity to "tour" their school through Virtual Open Houses. During these open houses, parents and students will be able to ask questions and interact with faculty and staff online and register for the upcoming school year. For a link to all of the Diocesan Catholics Schools, please visit www.dioceseofvenice.org/education.
Virtual Stations of the Cross
Each year hundreds from two dozen churches in the Sarasota Ministerial Association take part in the Stations of the Cross in downtown Sarasota. This year, the outdoor event was cancelled due to the restrictions brought about by the coronavirus pandemic. However, representatives from the different churches and denominations created a virtual program. The video event included music and messages from different religious leaders, including remarks from Bishop Frank J. Dewane as well as other priests of the Diocese, all in celebration of the 14 "stations" that chronicle Christ's crucifixion.