Mary statue stolen from Sebring Parish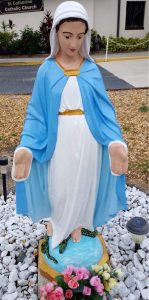 A statue of the Blessed Virgin Mary was stolen from St. Catherine of Siena Catholic Church in Sebring on Monday, July 13, 2020. It is not known why the statue was stolen, but the Church is asking for its return, or information of its whereabouts. The statue, which weighs about 200 pounds and was recently restored with fresh paint, has been located as part of a Memorial Rosary Garden in front of the Church for the past five years. It is valued at approximately $1,000. The theft follows the destruction of a statue of St. Francis of Assisi on the St. Catherine Church property which took place on June 26, 2020. St. Catherine Pastor, Father Jose Gonzalez, said both incidents are deeply disturbing and upsetting for the Faith community. Police reports have been filed in both cases. While it is unknown why the statues were targeted, it cannot be ignored that many such religious symbols have been vandalized or damaged nationwide in response to the recent social unrest. Anyone with information regarding these crimes is asked to contact the Sebring Police Department.
Beautification project transforms Parish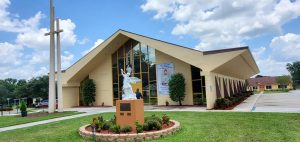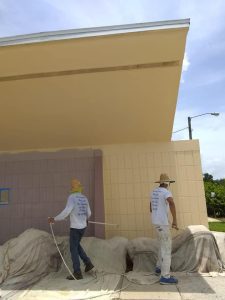 The faithful of St. Michael Parish in Wauchula recently assisted in a Parish beautification project in early July. The Parish Church and other buildings were power-washed and received a fresh coat of paint. Various landscaping work was also completed. The "Let's Beautify the Parish!" initiative encourage people to share ideas and support the efforts as well as assist in the work.
Ordination to the Permanent Diaconate Aug. 15
Bishop Frank J. Dewane will ordain to the Permanent Diaconate seven men at 11 a.m., Saturday, Aug. 15, 2020 at Epiphany Cathedral, 350 Tampa Ave. W., Venice. The candidates are: Jeffrey Ball of Ave Maria Parish, Ave Maria; Enrique (Rick) Castro of St. Cecilia Parish, Fort Myers; Ramiro Hernandez of St. Michael Parish, Wauchula; Jack W. Milholland Jr. of Our Lady of the Angels Parish, Lakewood Ranch; Roberto Pagán of Jesus the Worker Parish, Fort Myers; Vern W. Smith of St. Martha Parish, Sarasota; and Dr. William Soscia of St. Joseph Parish, Bradenton. A reception in the Parish Hall will follow. All are invited and encouraged to attend.
Support After Abortion Virtual Conference
Join the Support After Abortion Healing Network Virtual Conference 2020: Building and Strengthening Abortion Healing Worldwide – Thursday, July 30 to Saturday, August 1.  See and hear online over 40 presenters: clergy, authors, curriculum leaders and those who have been impacted by abortion as they share their wisdom, insights and personal stories. Don't be surprised that Support After Abortion resides in the Diocese of Venice and some of the presenters live here as well. There is no charge to watch any of the presentations during the three-day virtual conference by visiting www.supportafterabortionvirtualconference.com/home. See the website for a premium upgrade for access to each of the presentations for 90 days. (NOTE: Any priest interested in a free 90-day premium pass – a $49.99 value – can request one by e-mailing Berdeaux@dioceseofvenice.org or calling 941-374-1068.)
First Communion face masks donated by sewing group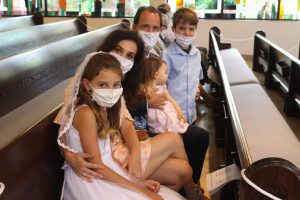 The Sewing Group of St. John the Evangelist Parish in Naples donated 200 white masks for use at Mass by First Communicants and their families on July 11, 2020. The Faith Formation team facilitated the masks for the boys and girls as well as their families. Two Mass were necessary for all of the children as all social distancing rules were also followed.
Parish provides gift cards
St. Leo the Great Parish in Bonita Springs recently donated $25 Publix gift cards to families who were using the emergency Catholic Charities Food Pantry. The pantry, which has been in operation in Bonita Springs since the start of the COVID-19 Pandemic, is open one day a week and provides emergency food for needy families impacted by the Pandemic. The gift cards were distributed to 200 families to help supplement the food they were receiving and were made possible through the generosity of the parishioners and Father Jarek Sniosek, Pastor of St. Leo.
3D face shield project update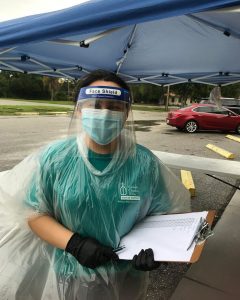 The first phase of a STREAM (science, technology, religion, engineering, arts, math) 3D printing project to provide face shields to frontline workers has been a huge success. So far 100 already been delivered for use by Catholic Charities Diocese of Venice Inc. staff and volunteers at food pantry distribution sites. The project was the idea of Jennifer Falsetiny, Curriculum Specialist for the Diocese Department of Education. The goal is to turn the Camillus Project into an ongoing club for schools to participate so as to give back to the community while providing solutions to a real-world problem. The plan is to re-launch the program again in the new school year to hopefully get more schools involved in the hands-on STREAM 3D printing service project.