Cathedral celebrates Feast Day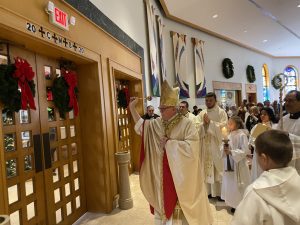 On Jan. 5, the Feast of the Epiphany of the Lord, the Feast Day of Epiphany Cathedral in Venice, Bishop Frank J. Dewane presided over a tri-lingual Mass (English, Spanish and Polish). This annual tradition includes the different language communities that are based at the Cathedral. At the beginning of the Mass, Bishop Dewane blessed the Cathedral where it is inscribed 20+C+M+B+20 (the year and the initials of the three magi) above the main interior entrance to the Church.
Senior apartments available in Arcadia
Brand new apartments are move-in ready at St. John Paul II Villas of Catholic Charities in Arcadia. The senior community (55 years and older) has a community center and numerous activities throughout the year. Rents start at $459 for a one bedroom and $626 for a two bedroom. Income restrictions apply. All units include washer/dryer, microwave, dishwasher, garbage disposal, and some units have a walk-in shower. If you are interested, please contact the leasing office at 863-884-2123 (TTY711).