Verot student named National Merit Semifinalist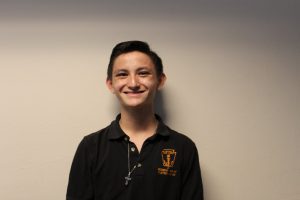 Congratulations to Bishop Verot Catholic High School senior Xavier Caangay who has been named a 2021 National Merit Scholarship Program Semifinalist. This makes Caangay one of 16,000 students nationwide to be recognized among the 1.5 million juniors who entered the competition by taking the 2019 Preliminary SAT/National Merit Scholarship Qualifying Test. To become a Finalist, the Semifinalist and his or her high school must submit a detailed scholarship application, in which they provide information about their academic record, participation in school and community activities, demonstrated leadership abilities, employment, and honors and awards received. Finalists are announced in the spring and have the opportunity to compete for some 7,600 National Merit Scholarships worth more than $30 million. All National Merit Scholarship winners will be selected from this group of Finalists.
Naples Catholic school recognized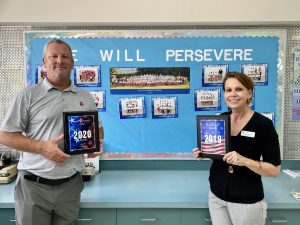 St. Ann Catholic School has been selected for the 2020 Best of Naples Award in the Schools category by the Naples Award Program. This is the 2nd consecutive year the school has won the award. Each year, the Naples Award Program identifies entities that it believes have achieved exceptional marketing success in their local community and business category. These are local entities that enhance the positive image of small business through service to their customers and the community. These exceptional companies help make the Naples area a great place to live, work, and play. The Naples Award Program is an annual awards program honoring the achievements and accomplishments of local businesses throughout the Naples area.  Recognition is given to those entities that have shown the ability to use their best practices and implemented programs to generate competitive advantages and long-term value. The school was also the runner-up for best school in Collier County in Gulfshore Life magazine For more information on St. Ann Catholic School, please call 239-262-4110 or visit www.stann.net.
Teens consecrated to Jesus through Mary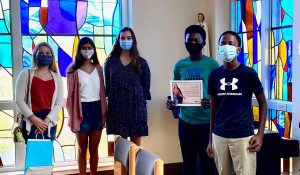 Five teens from Our Lady of Light Parish in Fort Myers were consecrated to Jesus through Mary on Aug. 16, 2020, after six weeks of learning about the lives of different saints. This consecration is part of 33 Days to Morning Glory. One teen said of the achievement: "The Marian Consecration has helped me, because Mary is like the voice in your head that steers you away from what's wrong and gives you a road to what's right. I also learned that when Mary is present in your life you can tell her all your worries knowing she is listening which gives me a sense of peace."
7th season of Faith & Wine coming virtually in October
Faith & Wine is returning to Lee County with its first ever virtual event on Oct. 22, 2020 featuring Liz Larson, a nurse and parishioner at Our Lady of Light Parish in Fort Myers, presenting "Lessons from Emma: A Walk in Faith." Larson will share her life-changing experience following the devastating diagnosis of her unborn child. To learn more and to register, please visit www.faithandwineleecounty.com.