Seminarian admitted to Candidacy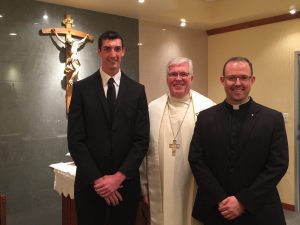 Bishop Frank J. Dewane presided over the Rite of the Admission to Candidacy of Diocesan Seminarian Daniel Scanlan on June 27 at the Diocese Catholic Center in Venice. Scanlan recently graduated Valedictorian from St. Vincent de Paul College Seminary in Miami and is heading to Rome, Italy, to continue his priestly formation at the Pontifical North American College. Also present was Father Shawn Roser, Diocese Director of Vocations.
Youth take part in religious retreat in Georgia mountains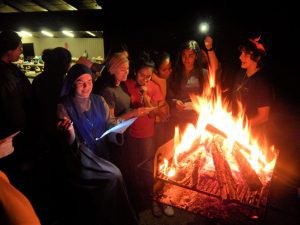 Youth from two different parishes took part in separate religious retreats in the Georgia mountains in late June. The Epiphany Cathedral group from Venice went to the Camp Covecrest retreat center for a week of fun activities and team-building exercises while also hearing inspirational talks and having time to reflect on their faith. Meanwhile, the boys and girls from St. Michael Parish in Wauchula went camping in the mountains of Georgia on consecutive weeks. The groups hiked to the start of the Appalachian Trail and took part in numerous other activities and were led by the religious sisters and priests from the parish.
Mooney student taking part in Ballet summer program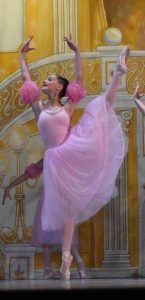 Lauren Garner, Class of 2022, is spending her summer at the Boston Ballet School Summer Dance Program. After an intense audition, she was accepted and will spend 5 weeks training 5-7 hours each day with internationally renowned faculty of the Boston Ballet School and prestigious collegiate dance institutions in the areas of ballet technique, choreography, improvisation and contemporary dance. She will be attending this program and living in college dorms with other students from the United States and around the globe.
Verot grad receives top Girl Scout award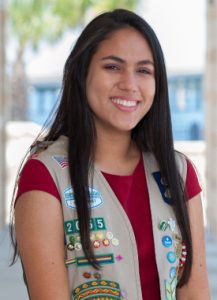 Samantha Romero, who just graduated from Bishop Verot Catholic High School in Sarasota has earned Girl Scouting's highest honor – the Gold Award. Following Hurricane Michael in 2018, she turned her passion for filmmaking to make a difference in the Florida Panhandle by documenting the damage and recovery at St. John Catholic School in Panama City. There was a local connection to that school in that the principal, Dr. Vikki Parks, previously served as Diocese of Venice Assistant Superintendent and a teacher at St. Andrew Catholic School in Cape Coral. Through the power of video, she was able to help the school share their story and spearhead their relief effort. Romero also created a video club at Bishop Verot, and through in-person workshops and online video classes she trained younger students in the art of film, editing, and techniques to create professional content. Romero was also a member of the Verot Catholics in Action Club and was very active in Pro-Life activities including a trip to the National March for Life in Washington, D.C. The Girl Scout Gold Award recognizes girls who demonstrate extraordinary leadership through take-action projects with sustainable impact in their communities. The Gold Award is so prestigious that some universities and colleges offer scholarships unique to Gold Award Girl Scouts, and girls who enlist in the U.S. Armed Forces may receive advanced rank in recognition of their achievements.
Mooney grad receives national lacrosse recognition
MJ McMahon, a recent graduate of Cardinal Mooney Catholic High School in Sarasota, has been named to the 2019 All-LaxRecords Second Team. McMahon completed his career with the Cougars tallying 410 points, good for top ten all time throughout the state. He racked up 235 goals, the fifth most ever for a high school lacrosse player from Florida. This past spring, McMahon helped guide Cardinal Mooney to a 21-win season. McMahon will be attending the University of Utah in the fall.