Bishop Frank J. Dewane installed Carmelite Father Anthony Armstrong as Pastor of Our Lady of Mount Carmel Parish in Osprey on May 7, 2023, in the context of the Mass.
"We are all called to go forth, responding every more faithfully to the Lord, with ever more strength. Holy Mother Church calls for a Pastor to accomplish that in each Parish, and I, as Bishop, am called to appoint them," Bishop Dewane said. "Father has been here a while, and you have come to know him, to understand his ways as he has come to know this community here at Our Lady of Mount Carmel. I ask that you continue to pray for him as he leads your Parish into the future."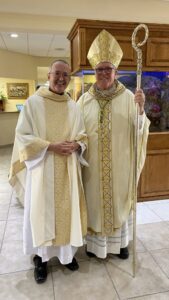 Our Lady of Mount Carmel Parish was established in 2000 as a Chapel of Epiphany Cathedral in Venice under the care of the Order of Our Lady of Mount Carmel. It was in 2002 when Our Lady of Mount Carmel was elevated to a Parish. The current building used for the liturgy was opened in 2004 with a Parish Hall, located a short distance away, added in 2019. The Parish has approximately 1,000 families. Father Armstrong is the fifth Pastor of Our Lady of Mount Carmel.
As part of the installation process, Bishop Dewane first called Father Armstrong to the ambo following the homily. Father then recited, along with the faithful, the profession of faith, including additional parts solely for him. He then recited an Oath of Fidelity in which he promises to "adhere to the teachings, which either the Roman Pontiff or the college of bishops enunciate when they exercise authentic magisterium." The installation also includes prayers to provide the new Pastor the wisdom and guidance from the Holy Spirit to lead the Parish.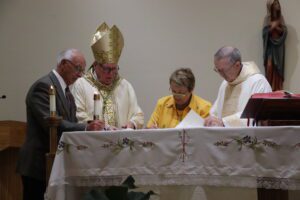 The Bishop then presented Father Armstrong as the new Pastor to the faithful gathered. Documents are later signed by the Bishop, the new Pastor, and two official witnesses of the Parish Community, who serve as witnesses on behalf of all of the parishioners. Copies of these documents are put in the Diocesan files for the Parish and Father, while a copy is kept at the Parish.
After Mass, Father Armstrong first thanked Bishop Dewane for the honor of appointing him, and then the faithful for being so supportive since his appointment in 2022.
"I am well aware of the awesome responsibilities I am undertaking, and I am well aware of my need for your prayers for me as your Pastor," Father said. "I know that, without your prayers, and without God's grace, I will not be able to fulfill the role that I have been given."
A reception followed in the Parish Hall.