By Karen Barry Schwarz, Special to the Florida Catholic
"No one enters a marriage expecting it to end in divorce," said Alexa DeGannes, a woman at Our Mother's House of Catholic Charities, Diocese of Venice, Inc. in Venice. "But that's what happened to me – I had to flee my husband for the safety of myself and my child."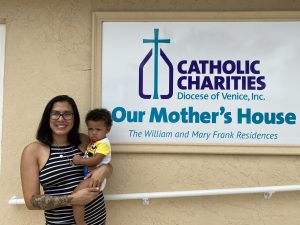 Alexa, a native of Trinidad and Tobago, was married for a year when she became pregnant. It should have been a happy time, but that's when the abuse began. "My husband, now ex-husband, just changed," Alexa said.  "He started treating me differently. He didn't want the baby and encouraged me to have an abortion.  When I refused, he slowly became more and more abusive. Eventually, the physical, psychological, emotional abuse — it was intolerable. I fled."
Unfortunately, Alexa's troubles did not end there.  She found they were just beginning. Her husband, out of spite, withdrew his citizen sponsorship of Alexa so she could no longer work in the United States.  Pregnant and alone, with no job, no money, and her family in Trinidad, Alexa had nowhere to turn.  She began sleeping on friends' couches and did so throughout her entire pregnancy. She felt hopeless, she said, and even considered taking her own life.  "I was desperate," said DeGannes. "I had no hope. I didn't even really have a place to lay my head.  I considered sleeping in my car. How was I ever going to take care of a baby when I couldn't take care of myself?"
Alexa made the selfless decision to give her child up for adoption, thinking it was her baby's best chance for a good life. But her husband, again out of spite, blocked her in court, and won. Adoption was no longer an option.
On July 20, 2021, everything changed.  Luke, Alexa's son, was born. Enter Our Mother's House. "I just started googling," Alexa said. "I figured there had to be some place, someone out there who could help me. I knew now that my son was born, I couldn't just give up."
Our Mother's House of Catholic Charities has provided transitional housing to homeless mothers and their children since 1987. The program's mission is to offer single mothers and their preschool-age children a safe and secure environment to achieve increased self-sufficiency through education, vocational training, and personal growth. Mothers apply, and if accepted, attend life skills classes, such as parenting, self-esteem, nutrition, and financial literacy. All new applicants must agree to follow house rules and regulations, attend house meetings, and accept communal responsibilities.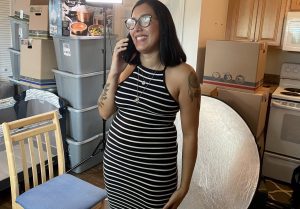 "When Alexa came to us, she was very scared," said Alexa's case worker at Our Mother's House, Ada Laureano. "But she was open to help, open to doing her part. With a little support, she became engaged, proactive, and resourceful. It's been a good relationship with her."
"I lacked confidence or motivation when I arrived at Our Mother's House with my two-week-old son," said Alexa. "I had no sense of tomorrow because I thought I didn't really have any kind of future. Our Mother's House provided the help I needed to get back on my feet and now I feel joy and am hopeful about the future – because now I know I have one."
Alexa DeGannes was living and working in Tampa, Florida as a laboratory scientist when she met her husband at work. A graduate of the University of Tampa, with a Bachelor of Arts degree in Forensic Science, Alexa had a bright future. "Until I didn't," she said. "If this can happen to me, this can happen to anyone. I had a happy, year-long courtship with my husband before marriage. I didn't see this coming."
At Our Mother's House, Alexa found not only the housing and support she needed for herself and her son, but the legal help she needed to obtain a work permit again.
"I got a job at Walmart," she said. "It was something. But I also had always wanted to pursue my master's degree – my case workers at Our Mother's House encouraged me to do so. With their help I applied for scholarships and entered a program at the University of Florida. Now, I am on track to have my master's in Clinical Toxicology in a year."
What's more, Alexa now has a new, high-paying job and a promising career ahead of her.
"I heard about an opportunity at Bristol Myers Squibb, a major pharmaceuticals company in New Jersey, through a former co-worker," said DeGannes. "I applied for this great Project Management position and was offered the job the next day! I couldn't believe it. It's a career, not just a job, and it's like a dream come true."
DeGannes will be overseeing pharmaceutical clinical trials in her new job, and the company even has an on-site daycare facility. She will finish her master's program at the University of Florida at night, online.
"Without Our Mother's House, I don't know where I'd be," said DeGannes. "As a first-time mom I doubted my ability to care for my son and had no vision of how to provide a good and happy life for him. The ladies at Our Mother's House always believed in me, until I could believe in myself again. I'm so grateful. I'm a spiritual person, and I know God had a hand in all of this, guiding me every step of the way."
Now Luke is on the verge of walking, says DeGannes. And she is about to fly, soaring to new heights.
"No matter how hopeless a situation may seem, there is always a way forward," said DeGannes, as she went back to packing up her belongings, ready to move on to her next chapter.
"I'm going to miss her," said Laureano. "But I'm so happy for her."
For more information about Our Mother's House, please visit https://catholiccharitiesdov.org/charities/our-mothers-house/