By Deborah Suddarth – Special to the Florida Catholic
Bradenton – Students at St. Joseph Catholic School were excited to welcome Father John Belmonte, SJ, Diocesan Superintendent of Catholic Education, on Aug. 24, 2022, as he celebrated Mass.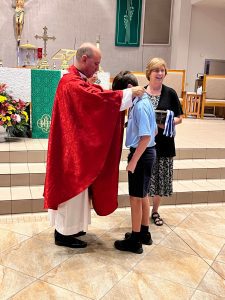 Following Mass, Father Belmonte presented medals to students who had excelled in summer academic programs.
During the summer, St. Joseph Catholic School students were invited to continue their learning and beat the "summer slide". Thanks to many programs funded through Title I, grants, and the Patterson Foundation, St. Joseph students had many options.
For example, more than 60 students participated in five weeks of Camp Invention summer learning camps with an emphasis on STREAM (Science, Technology, Religion, Engineering, Arts, Math) and literacy. These students participated in hands-on robotics programs each week with themes such as Robotic Aquatics; Discoveries in a Scientist's Attic; Blast Off with a Spacecation; Castles and Catapults; Physics In Motion; and Engineering with Marble Arcade.
Another 70 students participated in the Patterson Foundation's Suncoast Reading Program.  Through this program, books were provided by the foundation and students enjoyed "This Book is Cool" webisodes and activities. Students kept reading journals and received wristbands and brag tags for books completed each week. Through this program, the 70 students read a total of 1,617 books during the summer.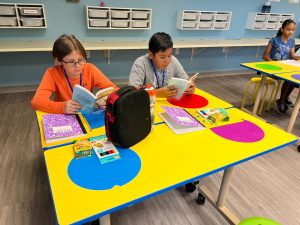 The largest of the summer learning programs drew nearly 100 students who chose to participate in the IXL Summer Reading Challenge. IXL (from "I excel") is a math and language arts practice website for K-12 (subscription based).
Students in grades one through eight used the IXL online individualized learning program to complete problems in math, language arts, social studies, science, and Spanish. IXL scores were calculated each week and the top three students at each grade level were published in the school's weekly newsletter. Throughout the summer, the competition was very intense for these top three positions. IXL participants completed a total of 150,848 problems. The over-all top winner was 6th grader Kayla Fleming who completed 10,409 problems.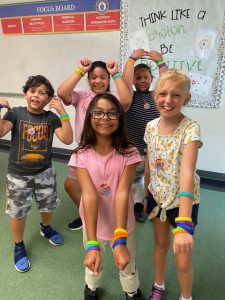 Many St. Joseph Catholic School students took a break from summer studies to participate in the week-long faith program, "Totus Tuus," with St. Joseph Parish. "Totus Tuus" was presented by the Diocese of Venice with age-appropriate instruction for children from first grade through high school. The weeks were filled with faith, fun, and friendship as well as games, crazy skits, and music. Throughout, the college-age leaders provided an authentic witness to the students.
The following St. Joseph Catholic School students received recognition for their summer program achievements:
High Points Medals for Exceeding Summer Reading Goals:
Leilani Lambar-Ramirez (4th Grade)
Nicholas Colonneso (4th Grade)
Sadie Jacobs (5th Grade)
Louis Santora (7th Grade)
Serafina Colonneso (8th Grade)
IXL Summer Learning Challenge First Place Winners:
Grade 8 – Bendli Thoney
Grade 7 – Heaven Francois
Grade 6 – Kayla Fleming
Grade 5 – Rodnel Alouidor
Grade 4 – Nicholas Colonneso
Grade 3 – Joshua Andrade
Grade 2 – Jenna Sperber
Grade 1 – Bendley Thoney
Deborah Suddarth is the Principal of St. Joseph Catholic School.