On the weekend of Sept. 17 – 18, 2022, the Diocese of Venice will be holding its annual Respect Life special collection. The purpose of this collection is to enhance the Diocesan outreach in its life-affirming work.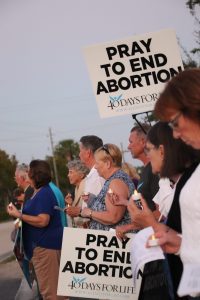 "These funds help facilitate our witness as a Faith community in Southwest Florida," Bishop Frank J. Dewane said in a letter supporting the collection. "Great progress has been made in recent years, as is known by all, yet each of us continues to have a shared responsibility in the defense of human life and are called to educate others on its sanctity and dignity."
The Respect Life collection comes shortly before the Sept. 28 opening of the National 40 Days for Life Fall Campaign with local vigils taking place in Sarasota and Fort Myers, as well as prior to National Respect Life Month in October.
40 Days for Life is an internationally coordinated 40-day campaign that aims to end abortion locally through prayer and fasting, community outreach, and a peaceful all-day vigil in front of abortion facilities. 40 Days for Life is an opportunity to be a witness for life by peacefully praying for an end to abortion where it matters most.
The Diocese of Venice has been involved with 40 Days for Life since the beginning with vigils taking place in the fall and in the spring – during Lent.
The success of 40 Days for Life has been seen locally when women approach vigil participants and tell their story of how their mind was changed by those present who were there to pray for their unborn child. More than 150 cases of lives being saved have been documented.
The Fort Myers prayer vigil is on the public right-of-way in front of Planned Parenthood at 6418 Commerce Park Drive, Fort Myers. The kickoff event is 6:30 p.m., Tuesday, Sept. 13, and will be highlighted by national pro-life speaker and author Terry Beatley.
In Sarasota, the vigil is 7 a.m.-7 p.m. daily outside the regional headquarters of Planned Parenthood, 736 Central Ave. A kickoff event will be held from 10:30 a.m. to noon, Sept. 28, in the parking lot of the Community Pregnancy Clinic (CPCI), 1419 7th St., Sarasota (around the corner from Planned Parenthood). The guest speaker will be Lisa Rowe, CEO of Support After Abortion.
Participants in the prayer vigil will be joining other like-minded individuals in communities around the nation and world. Some commit to taking part for a few minutes, an hour, or all day as they stand in the public right-of-way. Appropriate signs will be provided at both sites but are not needed to stand and pray. Check with your Parish to learn what hours they have committed to 40 Days for Life, as many often commit to several days of prayer on the front lines.
Those interested in taking part in a local prayer vigil are encouraged to sign up in advance at www.40daysforlife.com (search for Fort Myers or Sarasota). While registration is encouraged, all are welcome to come for any amount of time they can to help save a life.