Dusty construction zones have been a common sight at multiple Diocesan Parishes and Catholic schools during the summer months and in some locations more work is on the horizon.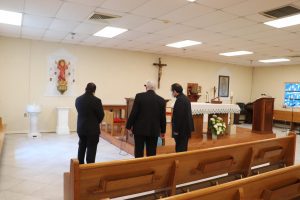 Projects ranging from window upgrades to constructing new Parish Halls have forced some temporary closures of buildings and other disruptions throughout the summer and into the fall. However, Joe Rego, Diocese of Venice Director of Building and Construction, explained how all the work – nearly 80 active projects – has been necessary stressing the end results will be worth any temporary inconvenience.
"Each of these projects (active, ongoing, or planned) is a priority for the respective Parish and school," Rego explained. "All of it is necessary and will have benefits that will last for years to come."
One of the most common projects currently within the Diocese has been roof repair and/or replacement. Such work is often necessitated as buildings age.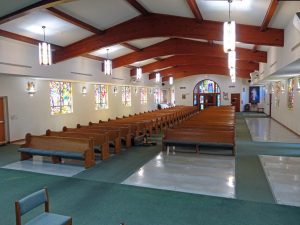 For example, the faithful at Our Lady of Grace Parish have endured multiple projects to upgrade their Parish Church and Parish Hall. The roof was replaced on both in 2020 and now interior work is ongoing in the Church with new tile flooring, pews and look to the sanctuary. With Mass taking place in the Parish Hall, the faithful are anxious to return when the work is completed late in the fall.
"Our parishioners' support has been very vital in the inception and the actual implementation of the project," said Father Ronnie Sison, Pastor of Our Lady of Grace. "The new floors should be enjoyed and last for generations to come. They also provide us with a healthier and cleaner environment by removing the old carpeting and replacing it with something that will outlast us all."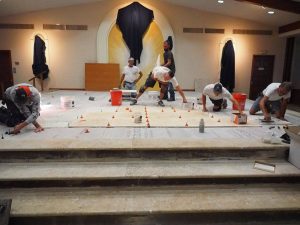 The Church at Ss. Peter and Paul the Apostle Parish in Bradenton was closed for a time, and Mass was temporarily held in the Parish Center, to allow the installation of a new roof, and now the pews are being refinished, reupholstered and installed.
Pews were also replaced during the summer at St. Andrew Parish in Cape Coral and St. Ann Parish in Naples. Father William Davis, OSFS, Pastor of St. Ann Parish, said the upholstery on the pews was past its usefulness and the cost difference for new ones was close enough that it was a natural choice. Though there was an inconvenience for approximately seven weeks, Father Davis said the results exceeded expectations and "the response has been overwhelmingly positive."
Meanwhile, the roof at St. Michael the Archangel Parish in Sarasota is being worked on now with much more to come. The interior of the church, including the altar, will be renovated with Mass temporarily being held outside starting in late fall. Once all of that work is done, the faithful will see the construction of a new Parish Hall, replacing a structure that was torn down due to safety concerns.
Roof replacement is now taking place on the church building at St. Mary, Star of the Sea Parish on Longboat Key with additional buildings at other locations being scheduled for work in the coming year.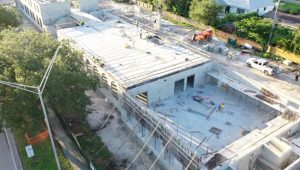 Holy Child Mission in Bowling Green has been going through a complete renovation with the interior gutted and replaced. Much of this work was necessitated because of damage caused by Hurricane Irma in September 2017. As that repair work progressed, more issues were discovered and are being addressed. Bishop Frank J. Dewane saw firsthand the progress of the work on Aug. 7, 2021. He was given a tour and learned that upgrades to the restrooms and a new roof were next on the to-do list.
Multiple construction projects are taking place at Our Lady of Mercy Parish in Boca Grande and include a new Parish Life Center, for which the slab is installed with walls being erected. Work will extend into early 2022. Other tasks include modifications to the existing preschool which includes converting spaces and upgrading the play area. Father Jerome Carosella, Pastor of Our Lady of Mercy, said he has been impressed by the progress of the work and what is necessary as the Parish is in an historic district on a barrier island. "The anchors go deep into the ground, so it won't be going anywhere if a big storm comes," Father said.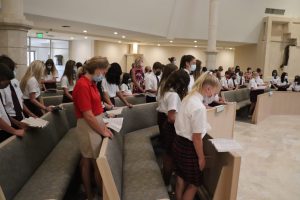 Another Parish Life Center under construction is located at St. William Parish in Naples. The Parish Center is replacing an old structure to accommodate Parish growth. That project began in April 2021 and is at the phase where exterior walls are rising, and interior work will begin by the fall. This project is expected to be done by Easter 2022.
Two Parishes with newly constructed Churches are going through similar renovations to their properties. Both Our Lady of the Angels Parish in Lakewood Ranch and Our Lady of Guadalupe Parish in Immokalee have work that includes Hall renovations. Work in Immokalee is in the final stages while Lakewood Ranch the construction is in the preliminary phases. Both buildings will include a commercial kitchen and much needed space for the respective growing Parish community.
The most recent high-profile project completed was the new St. Paul Parish Church in Arcadia. This project included the renovation of a former large grocery store into a new Church which was Blessed and Dedicated by Bishop Frank J. Dewane in March 2021. The new Church quadrupled the capacity of the old to more than 1,300. Future work includes classrooms and office space as well as a Parish Hall all contained under one roof.
Smaller projects include work on installing hurricane impact windows at St. Patrick Parish in Sarasota, audio-visual upgrades at Our Lady of Lourdes Parish in Venice, a fence for Sacred Heart Parish in Bradenton and much more.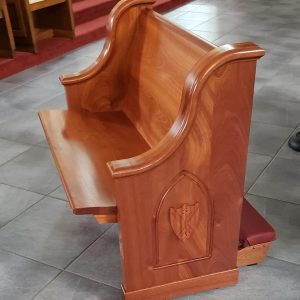 Diocesan Catholic schools were not immune to summer work and upgrades focused on the safety of students. Upgrades were made to Epiphany Cathedral Catholic School in Venice and Cardinal Mooney Catholic High School in Sarasota.
St. John Neumann Catholic High School in Naples replaced the fire and public address system which was previously damaged in a lightning strike. Several schools created or expanded dedicated classroom space for the growing STREAM (Science, Technology, Religion, Engineering, Arts and Math) curriculum.
St. Catherine Catholic School in Sebring and Ave Maria Catholic School in Ave Maria are both having work done to expand their facilities and make better use of existing space to accommodate growth in the schools.
At St. Elizabeth Seton Catholic School in Naples a new portable classroom building is being installed for use by middle schoolers as the additional classroom space was needed. The old cafeteria is going through a renovation to convert to a building to be used for the arts and sciences. Eventually the school will be building a new administration building and enhanced entrance.
Rego, of Diocesan Buildings Department, said these are just some of the examples of the individual projects currently at different stages of completion throughout the Diocese. It should be noted that some of the projects have been impacted by the global Pandemic which caused shortages of building materials and workers.
"This resulted in delays for some projects," Rego said. "It was unavoidable but something we strive to deal with. We are confident in the firms we use, as we have developed a good working relationship. When projects are put up for bid, each firms has a clear understanding of our needs."