A cleared lot will soon become the Parish Center for St. William Parish in Naples.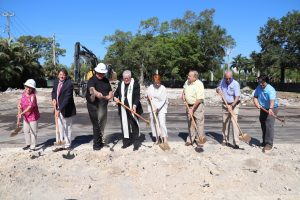 Bishop Frank J. Dewane led a blessing and groundbreaking ceremony on April 28, 2021 with a group of about 25 parishioners present to cheer on the project.
St. William Pastor Father George Ratzmann was delighted to get the project moving forward and thanked the support of the faithful and specifically for their understanding the vision of the Parish Center built not only for current parishioners but for future generations.
"I am so grateful for everyone who got behind this project," Father Ratzmann said. "It has been a long process, but we are one big step closer to reaching our dream."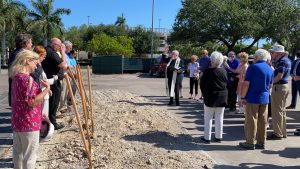 The new Parish Center will be approximately 30,000 square-feet, include two auditoriums and a pre-function space, classrooms, offices, conference rooms, catering kitchen and elevator. The project is expected to take a year.
Parishioner Debbie Brunel was present for the groundbreaking and thrilled to see that work is beginning. "This is so exciting. We can't wait for a whole year before it is complete. Plus, it is something the whole Parish community will be able use and enjoy but a wonderful legacy for those who will follow."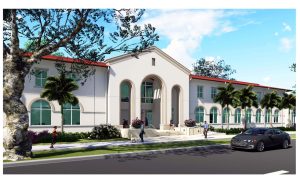 Bishop Dewane began the groundbreaking with a brief prayer service, as well as blessing the construction site with holy water. As a continuation of the groundbreaking, Bishop joined Father Ratzmann, as well as representatives of the contractors and a few dignitaries, to turn dirt with special shovels.
The Parish Center is located on the north side of Seagate Avenue, just west of U.S. 41 and diagonal from the Parish church and across from the Waterside Shop. The former Parish Hall was torn down a few months ago and the Parish offices just a few days before the groundbreaking ceremony. The Parish Offices are temporarily located in the Parish Hall, which is at the rear side of the Church.
The project contractor is Abraham Construction Group, Inc., and the architect is BSSW Architects Inc.