While 15 years may not seem as it is such a long time to most people, for the faithful of St. Agnes Parish in Naples, reaching this milestone was cause for celebration.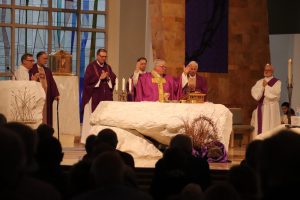 Bishop Frank J. Dewane celebrated Mass on March 12, 2022, 15 years to the day the Bishop erected St. Agnes as a Parish, which had been a Mission of St. John the Evangelist Parish from 1999 to 2007.
The vibrant Parish has 5,244 registered families, and while the Church holds about 1,500 people, there are eight Masses each weekend during the winter months, including one at a high school 10 miles away. Because of this reality and continued growth of the area, there are plans for St. Agnes to establish a Mission farther east in Naples in the future.
"We're so pleased to have Bishop Dewane here," said Father Bob Kantor, Pastor of St. Agnes. "We celebrate 15 years of life as a Parish and you see beautiful aspects here… there are many new faces, including many of you who have come to the Parishes over the years. We welcome you, whether you're a parishioner for a short time or all of those 15 years or well beyond."
Father Kantor thanked Bishop Dewane for his assignment in Naples noting that "the people are wonderful and have been a blessing to me and we have done our best to serve God."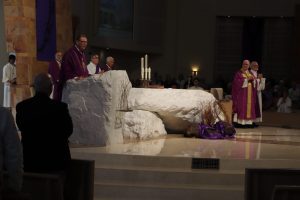 Bishop Dewane spoke about how it is appropriate to celebrate milestones in the life of a Parish, pausing to look back at what has been accomplished and to look forward to where the Parish is going, particularly, one that continues to grow. The Bishop reflected how the Parish was able to overcome considerable debt in its early years thanks to the generosity of the faithful who had confidence in the vision of Father Kantor and his advisors.
"The life of a Parish is very cyclical, as you follow the footsteps the Good Lord has set generations before," Bishop Dewane said. "The Catholic population is growing, and many people are moving in and now, today, you find yourself in another role – you are now looking toward a Mission Church."
The Bishop noted that the faithful are what St. Agnes Parish is all about, as their presence and contribution to the faith community are what make a Parish thrive.
"St. Agnes only grows and changes by your personal response to a call to holiness as you each strive to grow closer to the Lord," Bishop Dewane said. "St. Agnes started out as a vision by a few, including Father Thomas Glackin of St. John the Evangelist Parish; but it is the faithfulness of the people of God here at St. Agnes Parish who stepped forward to say we can handle it and have carried it forward to today and will do so into the future."
The original St. Agnes Mission was established in October 1999 with Masses held at two different area schools. The current Parish Church was dedicated as a worship site in 2006, a few months before the Mission was elevated to a Parish. A Parish Hall was later established on a neighboring property.
A 15th Anniversary celebration Mass included the full choir, which is normally present for Sunday morning Masses. Following the Mass, a Gala was held at the Vineyards Country Club.