By Bob Reddy
Florida Catholic
In a celebration worthy of a Feast Day, the new Spirit Center of St. Peter the Apostle Parish in Naples was blessed.
Bishop Frank J. Dewane celebrated a Mass on Feb. 21, the Vigil of the Feast of the Chair of St. Peter the Apostle, and then presided over a prayer service and blessing ceremony for the new Spirit Center, which is the result of a multi-year effort for this rapidly growing community.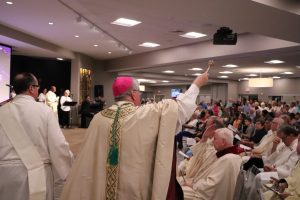 The Spirit Center is part of a multi-phase effort to handle the rapidly growing Parish which has seen a 54 percent increase in registered parishioners between 2008 and 2014 alone. Today the Parish has more than 8,000 families with Mass celebrated in three languages: English, Spanish and Creole.
The Bishop congratulated the gathered faithful for responding to the call of Jesus Christ with their support of the project and their presence as people of faith.
"You have helped move St. Peter the Apostle Parish forward in its history," Bishop Dewane added. "Never forget the blessings the Lord has provided to bring your entire Parish Community to this point as you take the next step forward into a bright future."
The 13,000-square-foot Spirit Center can easily accommodate more than 600 people, triple the previous center. In addition to a full kitchen, the space has movable partitions to allow the sectioning off areas for many different uses. Stained-glass windows from the old hall – which was the original church – were converted for use as free-standing works of art on either side of the stage. The structure also has a canopy which extends to the Parish Church.
St. Peter the Apostle Pastor Father Gerard Critch credited the people of the parish for the long-term commitment and sacrifice of many people to make the new Spirit Center possible.
"St. Peter's is a true community parish, with everyone coming together and reflecting the Light of Christ here in Naples," Father Critch said.