With a new location near the Murdock area of Port Charlotte, Pregnancy Solutions has a state-of-the-art facility dedicated to moms and dads experiencing unexpected, unplanned, or even is some cases, unwanted pregnancies.
Bishop Frank J. Dewane took part in an Open House on Oct. 13, 2021 and said a blessing for the continued success of Pregnancy Solutions in their new location at 950 Tamiami Trail, Suite 105. The Port Charlotte previous location was across from an abortion doctor's office which closed during the summer. The other locations are in Venice and North Port.
"It is great to be with so many like-minded people," Bishop Dewane said during the Open House. "Bless this center, and all those who walk in. Bless the lives it will contribute to, both the giving of new life, but also for those who need to be restored in spirit and body."
Jaqueline Zdrojowy, Executive Director of Pregnancy Solutions, welcomed the Bishop, as well as members of the advisory board and other honored guests representing several Diocesan Parishes, the Knights of Columbus and Venice Diocesan Council of Catholic Women.
Pregnancy Solutions is the only Pro-Life pregnancy center in Charlotte County after merging with Pregnancy Careline Center earlier in 2021. Zdrojowy explained how Pregnancy Solutions started operation 20 years ago in 2001 with the help of Sister Mary Judith Delaney, SHCJ, who served at Sacred Heart Parish in Punta Gorda, and in the first year they saw no clients.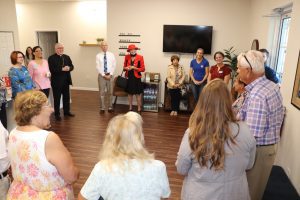 Compare that to the first 10 weeks at the new location which included 196 individual visits, including 84 ultrasounds, 99 pregnancy tests and much more, Zdrojowy continued. Other services include offering pregnancy options, adoption referrals, material support, parenting classes, support for men, and after abortion support.
The most encouraging statistic Zdrojowy shared was 72, the number of women who have had a change of heart from being abortion determined to choosing life and carrying their child to term. This has occurred since the start of the year through all of its three locations.
"We are just so excited to partner with you," Zdrojowy said of the groups which previously supported Pregnancy Careline Center. "You are truly an extension of the local Church and the local Church is the hope of the world. We believe we cannot do what we do without the support of the local Church."
At Pregnancy Solutions, you do not need insurance to receive the free services which includes ultrasound and pregnancy tests. Free diapers, baby formula, and baby clothes are available for moms and dads who participate in the program classes. All that is needed is a photo ID during the first appointment.
Pregnancy Solutions
Locations:
504 E. Venice Ave., Venice 34285,
950 Tamiami Trail, Suite 105, Port Charlotte 33953,
4500 S. Biscayne Drive, Suite G, North Port 34287.
Website: www.pregnancysolutions.org
Phone for all locations: 941-408-7100
Wish list
Diapers all sizes (newborn to Size 3 is greatest need)
Baby clothes – boys and girls (3T boys greatest need)
2021 Pregnancy Solutions Banquet – The 19th Annual Fundraising Banquet for Pregnancy Solutions of Port Charlotte, the only a pro-life pregnancy center in Charlotte County, is from 6:30 p.m. to 9:00 p.m., Tuesday, November 2, at Isles Yacht Club, 1780 West Marion Avenue, in Punta Gorda. The meal is complimentary; an opportunity to make a financial gift will be extended. Visit www.pregnancysolutions.org for details or to donate if you are unable to attend, or call 941-408-7100.