Young people from all over Southwest Florida will journey to a one-of-a-kind event to experience a spiritually fulfilling encounter with Jesus Christ – the 2021 Diocese of Venice Youth Rally.
Bishop Frank J. Dewane invites high school-aged teens to join him for a day that offers the Sacraments, music, speakers, a vocations/Catholic College fair and lots of fun! A key part of the day includes a large group Adoration of the Blessed Sacrament, which will lead into the celebration of the Mass.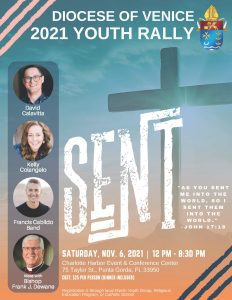 "The Diocese is blessed to have everyone back together under one roof for the 2021 Diocesan Youth Rally," Bishop Dewane said. "In 2020 we were apart for obvious reasons. Now is the time to bring our youth back together – celebrating our Faith and glorifying God."
The 2021 Youth Rally is from noon until 8:30 p.m., Saturday, Nov. 6, 2021, at the Charlotte Harbor Event and Conference Center in Punta Gorda. The theme for the Rally is "Sent" which comes directly from the Bible – "As you sent me in the world, so I sent them in the world" (John 17:18).
"The benefit of the Youth Rally is huge," Joshua Mazrin, Diocese of Venice Director of Evangelization and Acting Director of Youth and Young Adult Outreach, explained. "This isn't just a yearly event, it's a catalyst for the Faith. The Youth Rally evokes actual change in people's lives."
Mazrin said past participants have shared how the Diocesan Youth Rally allowed them to encounter God in ways they never had before.
"This year will be especially powerful with a time for Eucharistic Adoration allowing each person to come up close to and more personal with Christ," Mazrin continued. "These moments are a true experience with God's love. Youth also get to live out their Faith with their friends. Many even make new friends at the Youth Rally. The experience with God is in the context of a fun, energetic event."
For the 2021 Rally, the Diocese is thrilled to bring David Calavitta and Kelly Colangelo. For inspirational musical entertainment, the Francis Cabildo Band will perform.
Calavitta is a passionate Catholic in love with Christ and his Church and currently serves as the director of Creative and Marketing for Life Teen International. Colangelo has dedicated her life to bringing others into a radical relationship with Christ. She speaks internationally, has appeared on EWTN's Life on the Rock, and has been a contributor to Life Teen and Chastity Project blogs. She currently serves as the director of Youth Ministry at a parish in northwest Florida. Meanwhile, Francis Cabildo is a singer-songwriter and worship leader from Southern California who hopes to bring people closer to the Lord through his music.
All the faithful within the Diocese are asked to support this important event with their prayers. Raise your voices to the Lord for our Youth!
For further information or to register youth, please contact your local Youth Director, Director of Religious Education, Scout Leader, or Campus Minister.
To watch a video promotion of the 2021 Diocesan of Venice Youth Rally, please visit www.dioceseofvenice.org.
Joshua Mazrin can be reached at 941-484-9543 or mazrin@dioceseofvenice.org.