60 YEARS, ONE FAMILY
Tonya Peters, Principal, St. Charles Borromeo Catholic School
Many have told me that St. Charles Borromeo Catholic School is a little gem buried in the heart of Port Charlotte, and that it's a welcoming environment where students are well educated, nurtured in the Catholic Faith and formed to be Disciples of Christ. I couldn't agree more.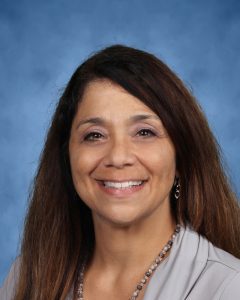 St. Charles Borromeo Catholic School opened in 1960. Therefore, as the school approaches its 60th Anniversary, it is a good time to reflect on what St. Charles has meant to the students, families and parishioners over the decades.
Firstly, many of our alumni are now doctors, attorneys, teachers, veterinarians, entrepreneurs, or are pursuing other prestigious professions, many focused on serving others, a lesson learned well at St. Charles.
In addition, the impact of the school is revealed in that many alumni remain active members of St. Charles Borromeo Parish. It is also a demonstration of the quality of the Catholic education (spiritual, academic and physical) being offered over the years at St. Charles Borromeo Catholic School that these same alumni think so highly of the school to which they choose to send their.
This is a further illustration that the school continues to live up to its Mission Statement: "St. Charles Borromeo Catholic School is a place where every child is spiritually and academically nurtured to their fullest potential, creating lifelong learners who value and live our Catholic Faith."
An example of the lasting legacy of the school can be demonstrated in the story one family, the Stone-Smiths, which has demonstrated their strong devotion towards St. Charles Catholic School and Parish.
Paul and Beth Stone are part of the first generation of parishioners at St. Charles Borromeo Parish, which was established in 1959. The school opened a year later, and the Stone's daughter, Kim, became one of the first students to attend the school for all eight grades. Meanwhile. Paul Stone was a Home and School Association President and member of the Parish Council. Years later, Beth Stone worked in the school as a teacher's assistant.
Kim Stone-Smith received her various Sacraments and eventually was married at the Parish in 1983. She later worked for several years at the school as an early childhood and kindergarten teacher. All three of her children attended St. Charles as well. And now, some of the next generation are in school at St. Charles Borromeo while others are destined to be Crusaders.
Earlier this year, Kim Stone-Smith returned once again to St. Charles, this time as a kindergarten teacher.  When asked how it was going back after a 13-year absence from the classroom, she simply said, "It is nice to be home."
St. Charles is currently home to 24 students with at least one parent who attended St. Charles. Having alumni sending their children to the school and bringing them to Mass and other Parish events is an enormous compliment to the school.
St. Charles continues to provide academic excellence for every one of our students. From the 2019 eighth grade class, the recent St. Charles Borromeo alumni are presently ranked high academically as freshman at their local high school. In addition, public high school teachers often say they know which students attended St. Charles Borromeo due to their good behavior, great work ethic and outstanding academic performance.
The story of the Stone-Smith family is just one example of how St. Charles Borromeo Catholic School and Parish work together to prepare children for social, personal, intellectual and spiritual fulfillment. This school is a gem waiting to be discovered by parents who seek noting but the the best for their children's future.
It would be an honor and a pleasure if St. Charles could be a part of your family's story. Please call at 941-625-5533 or visit www.stcbs.org to schedule a tour and learn more about how St. Charles Borromeo Catholic School in Port Charlotte prepares children for life here on Earth and life eternal.