Susan Laielli – Florida Catholic
Lakewood Ranch – Several Prison Ministry volunteers spoke from the heart on the many benefits of the power of Restorative Justice on Jan, 13 at Our Lady of the Angels Parish in Lakewood Ranch.
Our Lady of the Angels volunteers Margie Siler, Catherine Grzelak, Peggy Epstein, and featured guest speaker Father Timothy Harris, Third Order Regular Franciscan and Parochial Vicar of Our Lady Queen of Martyrs Parish in Sarasota, addressed interested parishioners.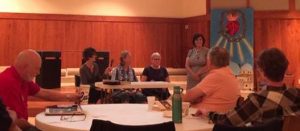 Dr. Janice Novello of the Diocese of Venice Peace and Justice Committee coordinated the event with Faith Formation and Evangelization Ministries at the Parish. The goal was to enlighten all on the Catholic Social Teachings of the Church, and the importance of life and dignity of the human person, regardless of where one might live.
Catholic Mobilizing Network defines Restorative Justice as a way of understanding crime in terms of the people and relationships that were harmed, rather than the law that was broken. Restorative Justice values human dignity, healing, accountability and the hope of redemption for all involved.
Answers to questions such as, "Does Prison Ministry change people?" were addressed by the volunteers, who each shared the rewards of donating their time once or twice a week to bring Communion and comfort to the inmates of prisons, jails, and work camps, and for the gift of appreciation shown back to them in return from the inmates, who thank them endlessly for the visits.
Father Harris shared the societal benefits of Restorative Justice, saying that there are three victims of any crime: the traditional victim, society and the perpetrator. He reminded parishioners that God wants all to know, love and serve Him, and that forgiveness and Restorative Justice is a key component to achieving the end goal.
For those interested in becoming a prison outreach volunteer, please contact
Robert Hiniker at 863-558-0407 or hinbob5@hotmail.com.