Parishes and Catholic schools throughout the Diocese of Venice have been reaching out to recognize first responders, medical staff, sanitation workers and all who are tirelessly working on the front lines in the fights against the coronavirus outbreak.
Below are just a few of the recent examples of what is being done.
Our Loving Stitches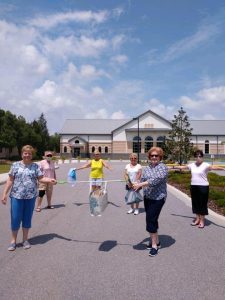 Our Lady of the Angels Parish in Lakewood Ranch is well known for giving back to the community. In the midst of stay-at-home orders, quarantines and the scarcity of masks, the Parish Our Loving Stitches outreach decided to do something about it. The group recently announced that they have made more than 700 masks which have been distributed to All Children's Hospital in St. Petersburg as well as to other hospitals, assisted living facilities, as well as to vulnerable parishioners and friends.
School initiative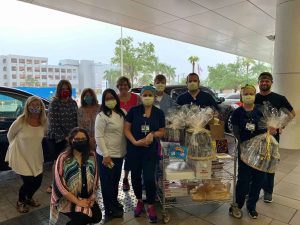 St. Martha Catholic School in Sarasota has converted its first-class education to distance learning, but the teachers and students have not forgotten the need to give back to the community.
While teaching their students from afar, the teachers have encouraged their changes with making "Thank You!" cards for area nurses and doctors. Recently, teachers from kindergarten, first and third grades presented the student-created cards, St. Martha Tervis Tumblers, donuts, and coffee for the nurses at Sarasota Memorial Hospital who are all working with COVID-19 patients. The nurses responded with a tearful thanks for the cards and extra prayers.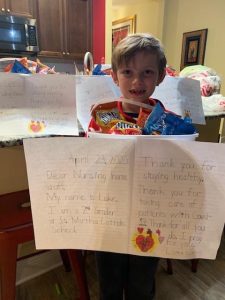 In addition, a second grader created a gift basket for his mom to deliver to a local nursing home and a fourth grader created a care package for the sanitation workers.
Wall display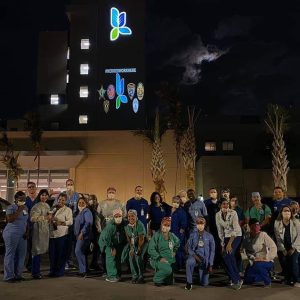 Max Weinberg, a parishioner St. John XXIII Parish in Fort Myers, of Empire Entertainment, recently created a video mapping wall display to honor healthcare workers at Gulf Coast Hospital in Fort Myers and to help uplift spirits.
Weinberg's display and was projected onto the side of the hospital during shift change and included the insignia for the hospital as well as the patches and badges for area first responders and said "Heroes Work Here." Weinberg also created a special video tribute for the hospital. Additional displays have also been made at other facilities.
These are just a few of the efforts being made to honor local heroes.
If you know of anyone or any Parish or school which is honoring local heroes, please email the information to Bob Reddy at reddy@dioceseofvenice.org.