The Feast of Ss. Thomas More and John Fisher on June 22, 2020 marks the start of Religious Freedom Week, a national call for all Catholics across the United States to pray, reflect and take action in support of Religious Liberty in our country and abroad.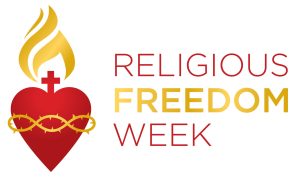 It is appropriate that the week begins on such a day, as Sts. Thomas More and John Fisher are remembered for being martyred in 1535 for standing up for the Sanctity of Marriage and the Freedom of the Church in opposition to England's King Henry VIII.
Continuing through the Solemnity of Sts. Peter & Paul the Apostles on June 29, 2020, Religious Freedom Week is a call by the U.S. Conference of Catholic Bishops (USCCB) to unite Catholics across the country to pray, reflect and take action on religious liberty, both here in this country and abroad. The theme for Religious Freedom Week 2020 is "For the Good of All."
Religious Freedom was founded to allow people of Faith to serve others in God's love through ministries like education, adoption and foster care, health care, as well as migration and refugee services.
During the week, the USCCB encourages the faithful to reflect upon the importance of religious freedom so that we can carry out our mission of service and mercy. Everyone is invited to pray for our brothers and sisters who face intense persecution in other parts of the world.
Throughout the Religious Freedom Week, we are called to follow Christ as missionary disciples by seeking the truth, serving others, and living our Faith in all that we do. A number of resources, including daily prayers, reflections as well as action items related to issues in the U.S. and abroad, can be found at the USCCB website at www.usccb.org/ReligiousFreedomWeek.
In Catholic teaching, the Second Vatican Council declared in Dignitatis Humanae, No. 2, that the human person has a right to religious freedom. This freedom means all men/women are immune from coercion on the part of individuals or of social groups and of any human power. In such ways that no one is to be forced to act in a manner contrary to his/her own beliefs, whether privately or publicly, whether alone or in association with others, within due limits.
Religious Liberty is protected in the First Amendment to the U.S. Constitution as well as in federal and state laws and reaches beyond our ability to go to Mass on Sunday or pray the rosary at home; it also encompasses our ability to contribute freely to the common good of all Americans.
To stay up-to-date on current religious freedom issues, sign up for text messages from the USCCB. It's easy. Just text the word "FREEDOM" or "LIBERTAD" to 84576.