The Feast of Ss. Thomas More and John Fisher on June 22, 2021 marks the start of Religious Freedom Week, a call by the U.S. Conference of Catholic Bishops (USCCB) for all Catholics across the United States to pray, reflect and take action in support of Religious Liberty in our country and abroad.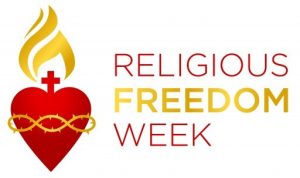 It is appropriate that the week begins on such a day, as Ss. Thomas More and John Fisher are remembered for being martyred in 1535 for standing up for the Sanctity of Marriage and the Freedom of the Church in opposition to England's King Henry VIII.
Continuing through the Solemnity of Ss. Peter & Paul the Apostles on June 29, 2021, the Religious Freedom Week theme is "Solidarity in Freedom," and stems from a Pope Francis quote: "Solidarity means much more than engaging in sporadic acts of generosity. It means thinking and acting in terms of community." This quote is from the Pope Francis encyclical "Fratelli tutti (On Fraternity and Social Friendship)" which was released in October 2020.
During Religious Freedom Week, Catholics are encouraged to pray each day for specific causes related to religious freedom. The USCCB's "Pray – Reflect – Act" Series aims to help Catholics build solidarity with people of faith who are persecuted and find strength to carry out the mission of the Church. Religious freedom allows the Church, and all religious communities, to live out their faith in public and to serve the good of all.
The Diocese of Venice joins with other Dioceses to promote Religious Freedom Week. Bishop Frank J. Dewane encourages the faithful of the Diocese of Venice to educate themselves about the issues of religious freedom but to be aware of the threats faced both domestically and abroad.
The USCCB has prepared resources which may be found at: www.usccb.org/ReligiousFreedomWeek. Each day focuses on different religious liberty topics of concern for the U.S. Bishops.
The USCCB's Committee for Religious Liberty collaborated with the Office of International Justice and Peace to raise awareness and show solidarity with people throughout the world who suffer for their faith, from the persecution of Christians in Nicaragua to highlighting Pope Francis's trip to Iraq this year. Domestically, a major area of concern continues to be freedom for Catholic institutions, such as schools, hospitals, and child welfare service providers, to carry out their missions free from government intervention..
Materials prepared by the USCCB are made available to help people understand religious liberty from a Catholic perspective, reflect on the application, pray about particular issues, and act on what they learn by advocating for policies that promote religious freedom.
Through prayer, reflection, and public action during Religious Freedom Week, the USCCB hopes to promote the essential right of religious freedom for Catholics and for those of all faiths.
The USCCB materials can be found in English (https://www.usccb.org/committees/religious-liberty/religious-freedom-week) and in Spanish (https://www.usccb.org/committees/religious-liberty/semana-de-la-libertad-religiosa).
Connect with the USCCB Committee for Religious Liberty by texting "FREEDOM" or "LIBERTAD" to 84576 and sign up for the First Freedom News, the USCCB Committee for Religious Liberty's monthly newsletter.