The Diocese of Venice Office of Catholic Education has announced the hiring of a new principal for Incarnation Catholic School in Sarasota.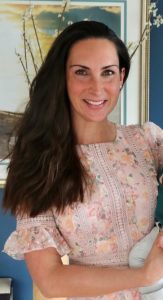 The hiring of Amy Yager was announced jointly on June 9, 2021 by Diocese Superintendent of Catholic Education Father John Belmonte, SJ, and Incarnation Parish Pastor Father Eric Scanlan.
Yager joins Incarnation from New York, where she was a high school principal for nine years (2012-2021) at Cypress Hills Collegiate Preparatory School in Brooklyn. A native New Yorker who grew up on Long Island, she met her husband, Chris, in high school and they both attended St. John's University in Queens. There she graduated with a degree in psychology. Yager went on to get an advanced degree in counseling at Long Island University and secured a position as a School Counselor at a New York City public high school.
She was recruited by the New York City Department of Education to train to become a Principal and was admitted into an accelerated Principal preparation program through Baruch College. During her time as principal, she increased enrollment, increased the graduation rate from 49 percent to more than 90 percent, and created an all-inclusive environment where students felt welcome and safe.
Yager, with her husband and three boys, relocated to Sarasota where they enjoy spending their time outdoors at Siesta Key beach and on the Legacy Trail. They are now members of Incarnation Parish and looking forward very much to getting to know the community

Father Belmonte said a comprehensive selection process brought the best candidate to Incarnation Catholic School. The process included a dedicated search committee which was represented by the teachers, parents, and school board.
Father Scanlan thanked the search committee for the effort in finding the person who best fits the needs of Incarnation Catholic School.
"We are very excited about the leadership Principal Yager will bring to further our mission of faith, excellence, and education at Incarnation," Father Scanlan said.
Yager will officially assume her new role on July 1, 2021.