Service, prayer, music, fun and food.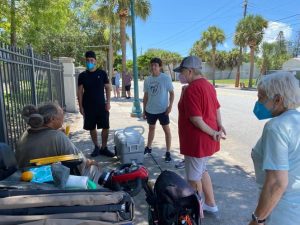 Combine those things and you have a formula for a successful "Teen Service Week" for youth who are preparing to receive the Sacrament of Confirmation at St. Thomas More Parish in Sarasota.
Robbie Anderson, the Director of Religious Education and Youth Outreach at St Thomas More, brought the idea of a faith-based service week from her previous position in the Chicago area. The group began their week with their regular Sunday night meeting on Aug. 1, 2021 with prayer, music and food.
On each morning of the week of Aug. 2-6, the teens met with assigned leaders at the parish and prayed together. From there, they were sent to different locations to serve the community. Their week started with a Sarasota food pantry, then met with teens from St. Michael Parish in Wauchula. In the middle of the week, they assisted at a local soup kitchen and organized the Parishes' own food pantry.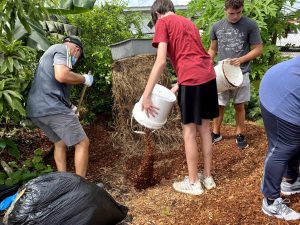 The longest journey was on Thursday, when they trekked to Immokalee and visited Our Lady of Guadalupe Parish and the Catholic Charities offices there, which include a soup kitchen, food pantry and much more. The group also helped in a local environmental cleanup and learned about the difficult working conditions for farmworkers and were educated on unfair wages. The week concluded with the group helping parishioners with small projects around their home.
Anderson said each day began by 7 a.m. and concluded by 9 p.m. At the conclusion of each day, the teens finished with a sponsored meal, played outdoor games and prayed together. As part of the week the youth wrote prayers based on their daily experiences. Examples include the following:
"I pray for immigrants who are struggling for an income standard because of their circumstances."
"Please put food on the tables of those in food insecurity."
"God bless those who love and support their communities through organized and consistent efforts."
"That we continue to make a difference in future days and weeks."
"That our work today will make us more compassionate to those who don't have enough."
"That this week was life changing for all the teens and adults and that what we experienced will motivate us to continue to serve others."
"For a resolution to equality, justice and hunger issues."
"For the homeless people we served today, that they stay safe."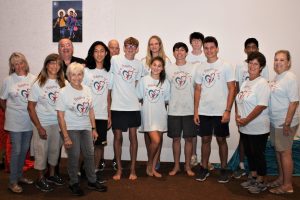 It was clear to Anderson that the week made a real impact on the youth in various ways.
"At our reflection at the end of the week many said they were made much more aware of the poverty right here in Sarasota that they never imagined existed," she said. "They were also saying they need to raise awareness of the unfair wages that the farm workers receive."