Parish collects shoes in Back-to-School Drive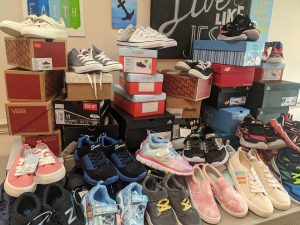 The Faithful of Our Lady of Light Parish in Fort Myers took part in a Back-to-School Shoe Drive collecting more than 170 pairs of shows for local foster children the weekend of Aug. 5, 2021. The Shoe Drive was organized by the Office of Faith Formation. Well done!
Summertime and the Giving is Easy Appeal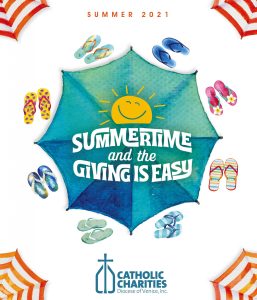 Every day, Catholic Charities Diocese of Venice serves the most vulnerable population by feeding, housing, empowering, and striving to help those in need. This summer, you can leave your footprint by helping your neighbors. The Catholic Charities Summertime and the Giving is Easy Appeal is asking for your support. Donate to your choice of assistance, such as food, shelter, education or other support. The giving is easy! Your gift will make a positive impact on our less fortunate brothers and sisters! Please visit www.catholiccharitiesdov.org or mail a check to Catholic Charities,1000 Pinebrook Road, Venice, FL 34285.
Marriage prep for couples over 55
The Office of Family Life is offering a one-day marriage prep seminar for those couples over 55 years of age preparing for marriage or convalidation from 9 a.m. to 4 p.m., Aug. 28, 2021, at Our Lady of Lourdes. 1301 Center Road, Venice. A specially prepared volunteer team share their experiences and information with the intention of enabling couples to be more aware of the privileges and responsibilities of marriage. Pre-registration is required. Please register online at: https://dioceseofvenice.regfox.com/two-become-one.
Life in the Spirit Seminar coming to Fort Myers
Resurrection Parish, 8121 Cypress Lake Drive, Fort Myers, is hosting a Life in the Spirit Seminar, Monday mornings from 9 a.m. to 10:30 a.m., beginning Aug. 23, 2021, through Nov. 11. To register call 239-482-7172 or email AdultFaith@resurrectionch.org. The cost of books is $7. Any questions, please call or text Janet at 708-525-4352 or email jalmen11@att.net.
New Catholic Institute Course Aug. 24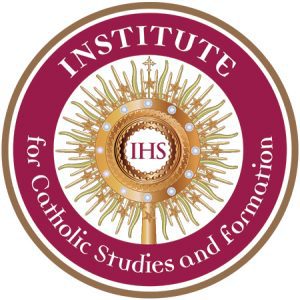 The Institute for Catholic Studies and Formation is offering a 16-week graduate level online course starting Aug. 24, 2021 that introduces students to the principles, practices, and sources of Catholic Theology. The course "What is Catholic Theology? (Ecclesial Nature and Mission of Theology)" counts as a pre-requisite for those beginning the online MA in Theology and Christian Ministry at Franciscan University of Steubenville. (Franciscan offers Diocese of Venice students discounted tuition for this online MA). This course is also available to those who wish to attend for their own personal enrichment. For cost and other information and to register for the course, visit the Institute website at https://institute-dov.org/ or call 941-766-7334.
Cathedral Concert series resumes Aug 29
The latest in the Epiphany Cathedral Concert Series, "A Night At The Opera" featuring Soprano: Robyn Rocklein, Tenor: Russell C. Andrade, and our Music Director: Andi Zdrava, will take place at 7 p.m., Aug. 29, 2021, Epiphany Cathedral Parish Hall, 375 Tampa Ave. W., Venice. Tickets are $25 per person and available at www.EpiphanyCathedral.org. Doors open at 6:30 p.m. For more information, please call 941-484-3505.
Invitation to all widows and widowers
Come join the Our Lady of Mount Carmel Parish faith-sharing group to grow together in holiness and the devout life. This 8-week series will be held on Wednesday mornings from 10:30 a.m. to 12 p.m. beginning Sept. 1, 2021, at the Parish, 425 S. Tamiami Trail, Osprey. The topic will be: "Praying with the saints, our mentors in the faith." All are welcome!  For information and to join this group, please contact Marianne Cano at 941-966-0807, ext. 314, or mcano@olmc-osprey.org
Labor Day Pig Roast
Join the Epiphany Cathedral Knights of Columbus for a Labor Day Pig roast, Sept. 6, 2021, at the Knights Hall, 512 Substation Road, Venice. Doors open at 3 p.m., dinner buffets starts at 4 p.m. Menu includes roasted pig, plantains, barbecue beans, potato salad, cole slaw, dessert, iced tea, lemonade, water. Cost is $20 per person. Beer and wine available. Credit cards accepted. Register at epiphanyknights.org or call Nancy Kraszewski at 281-814-9954.
Catholic Alpha Online
Alpha Online is a course where individuals meet virtually once a week via Zoom to discuss and share ideas about faith and God in an open, caring and non-judgmental way. The Diocese of Venice English Catholic Charismatic Renewal invites you to experience Catholic Alpha online from the comfort of your home, and to hear from notable Catholic speakers. These include newly appointed Cardinal Raniero Cantalamessa O.F.M. Cap., longtime Preacher of the Papal Household; Dr. Mary Healy; Father John Ricardo; and Father Mike Schmitz. Each course is Monday from 7 p.m. until 8:30 p.m. beginning Sept. 13 through Nov. 29, 2021.  For further information please contact Theresa Salvo at asolotogod@gmail.com or 804-387-8282.
CCW Vocation Fund fundraiser
Support and encourage our future priests by contributing to the Venice Diocesan Council of Catholic Women Vocation Fund by joining them in celebrating Priesthood Sunday, Sept. 26, 2021. Send a donation to the VDCCW Vocation Fund "In Honor of" the priest(s) in your Parish. Our Diocese is educating 16 MEN in various seminaries so your donation of any amount will be a great help! To take part, please send $1.00 for each card in addition to your donation. The extra $1.00 covers the cost of the "IN HONOR OF" card(s) and mailing them to you so you can deliver to your Priest(s). Your donation amount will not be revealed to the Priest(s). And please remember that this is a gift that keeps on giving!  Please send $1.00 plus your donation made out to "VDCCW Vocation Fund" to: Cornelia Zanetti, 5808 Gulf Drive, #204, Holmes Beach, FL 34217. Questions? Please email Corniez@aol.com.
Magnificat breakfast for women Oct. 2
Be Blessed and Encouraged at the next Magnificat breakfast for women, 9:30 a.m. to 12:30 p.m., Oct. 2, 2021, at the Holiday Inn Airport, Gulf Coast Town Center, Fort Myers. The guest speaker is Peg Mengle, a member of St. Cecilia Parish in Fort Myers. Seating is limited. No walk-ins or payment at the door! Advanced registration only. Please send a $23 check, payable to Magnificat Fort Myers, to Margaret Mengle, 5017 Westminster Dr., Fort Myers, FL. 33919. Your mail request must be postmarked by Sept. 22. You can also make a reservation at https://magnificatfortmyers.com/order-tickets/. For more information, please call 239-826-7475.
Diocesan Marriage Conference Oct. 2
The Diocese of Venice in Florida and the St. John Paul II Foundation announce the "Together in Holiness Marriage Conference" that will be held from 10 a.m. to 5 p.m., Oct. 2, 2021, at St. Agnes Parish, 7775 Vanderbilt Beach Road, Naples and St. Thomas More Parish, 2506 Gulf Gate Drive, Sarasota. The speakers are Kevin and Lisa Cotter. For more details contact Carrie Harkey at harkey@dioceseofvenice.org.
Virtual Laps for Life in October
The Knights of Columbus Virtual Laps for Life will be from Oct. 2 to 9, 2021. Show your support for the cause by being a part of this virtual event. Your contributions help fund the life changing services provided to expectant mothers at no cost to them at My Choice Pregnancy Center in Sarasota Florida. There is a $30 Race Fee, and registration ends Oct. 9. Sign up at http://srqlapsforlife.net. For more information, contact Knights of Columbus Council 3358 Pro-Life Chair Joe Gina at 941-702-1700 or srqLapsforLife@gmail.com.
Parish hosting day of renewal for men and women
St. Agnes Parish in Naples is hosting a day of renewal given by the Parish Men's and Women's "WELCOME" retreat teams. Come celebrate the Parish being fully open with an incredible day of God's love, friendship, and revitalization. The Women's Welcome Day is Oct. 9, 2021 and the Men's Welcome Day is Oct. 23, 2021 at the Parish, 7775 Vanderbilt Beach Road, Naples. For more information, including free registration, please visit our website at www.StAgnesNaples.org.
Stepping into Marriage with Children
The Diocese Office of Family Life is offering a free half day workshop for couples beginning or currently in a stepfamily situation. This program takes a realistic look at blended families and offers strategies and tools for success.  The program is being offered 9 a.m. to 12 p.m., Oct. 9, 2021, at St. Leo the Great Parish, 28290 Beaumont Road, Bonita Springs, and 9 a.m. to noon, Nov. 6, 2021, at Our Lady of Lourdes Parish, 1301 Center Road, Venice. To register https://dioceseofvenice.regfox.com/stepping-into-marriage-with-children.
White Mass in Naples Oct. 16
A White Mass and lecture for physicians and medical professionals will be 8:30 a.m., Oct. 16, 2021, at St. Agnes Parish, 7775 Vanderbilt Beach Road, Naples. A blessing of the stethoscope will also be held. Please wear your white coat. Following Mass, a lecture and breakfast will take place in the Parish Center. The lecture is entitled "Spiritual Leadership in a Secular Healthcare Setting" presented by speaker Paul Hiltz followed by a discussion with Dr. Gloth and other panelists. There is a $50 fee per person (reduced rates for physicians in training and non-physician health professionals). Register and pay online at www.stagnesnaples.org. For more information, please contact Maggie Brady 239-592-1949. (1 AMA PRA Category 1 Credit)