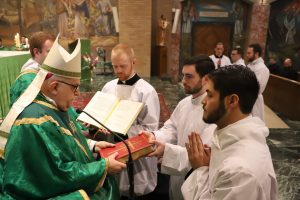 Joseph Corboy Doherty, a Seminarian of the Diocese of Venice in Florida, was among a group of men who were conferred the Ministry of Lector, Jan. 16, 2022, in the Chapel of the Immaculate Conception at the Pontifical North American College, Vatican City State.
Archbishop Joseph Augustine Di Noia, Adjunct Secretary of the Congregation of the Doctrine of the Faith was the celebrant. Archbishop Di Noia urged the seminarians to take charge of this mission to share the Gospel with others by first internalizing it in their own hearts.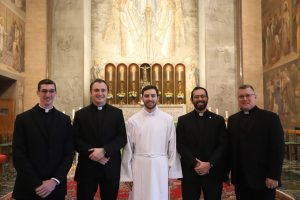 As part of the rite, the Archbishop placed the Holy Scriptures in the hands of each candidate and said, "Take this book of Holy Scripture and be faithful in handing on the word of God, so that it may grow strong in the hearts of His people."
Doherty, currently in his first year of theological formation for the priesthood, will have three additional years of theological, spiritual, and pastoral formation before being considered for ordination to the priesthood in the Diocese of Venice.